Food Waste Recycling Analysis
In 2019, an enormous 35% of all food in the United States went unsold or uneaten. That's $408 billion worth of food – roughly 2% of U.S. GDP – with a greenhouse gas footprint equivalent to 4% of total U.S. GHG emissions. Most of this became food waste, which went straight to landfill, incineration, or down the drain, or was simply left in the fields to rot. Businesses, government agencies, funders, and others are already making efforts to address this challenge – but a massive acceleration is needed to achieve national and international goals to reduce food waste by 50% by the year 2030.
ReFED is a national nonprofit working to end food loss and waste across the U.S. food system. We estimate that an annual investment of $14 billion over the next ten years can reduce food waste by 45 million tons each year. That investment would result in $73 billion in annual net financial benefit – a five-to-one return. Plus, every year, it would reduce greenhouse gas emissions by 75 million metric tons, save 4 trillion gallons of water, and recover the equivalent of 4 billion meals for those in need. Over ten years, it would create more than 51,000 jobs – and achieve our 2030 reduction goal.
Impacts of Uneaten Food: Economic
Each year, the country lets food worth $408 billion go uneaten. While the financial cost of uneaten food is greatest for consumers, since they pay retail prices for food, surplus within food industry sectors was worth about $250B.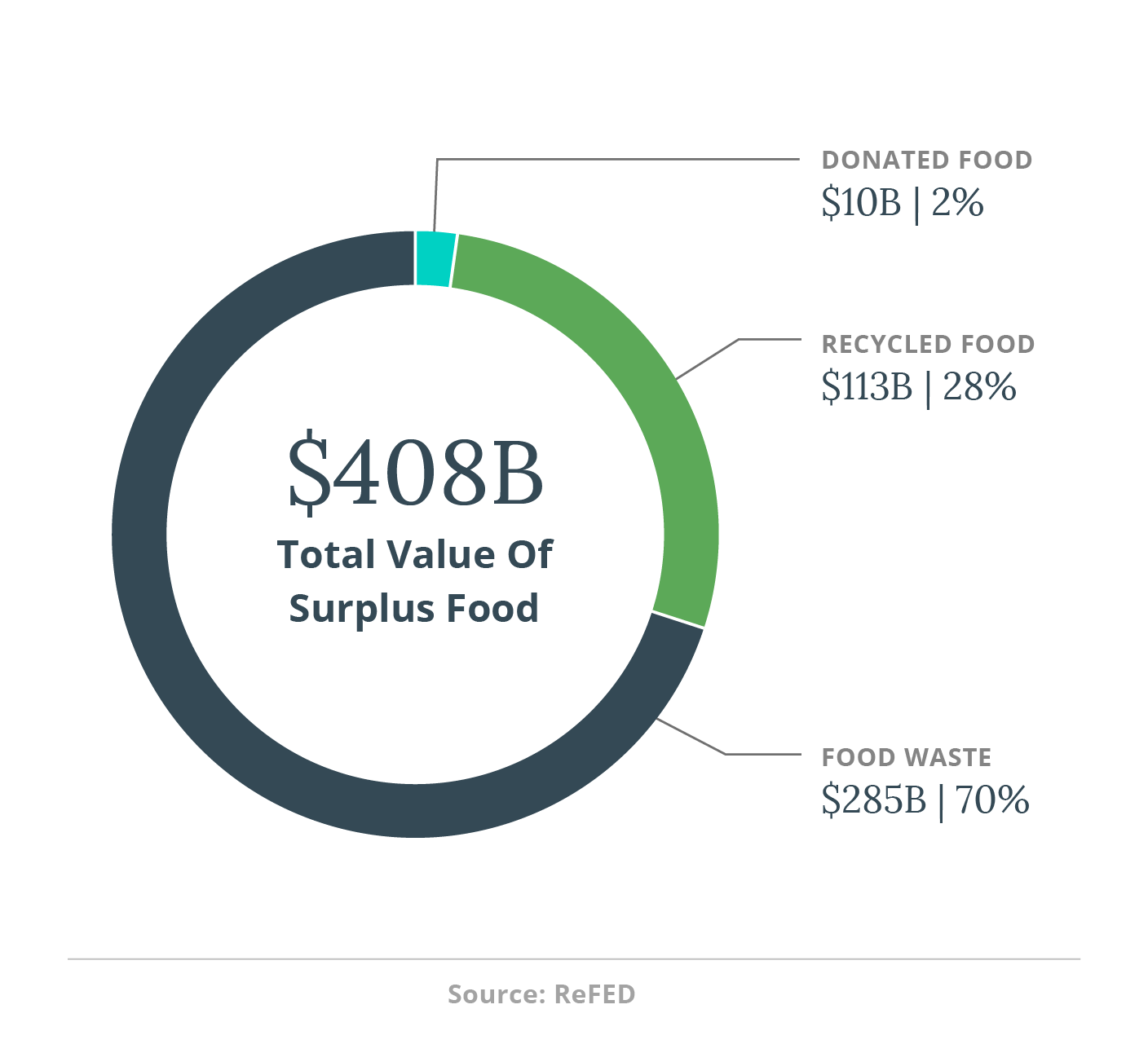 Impacts of Uneaten Food: Environmental
Uneaten food is responsible for 4% of greenhouse gas emissions in the U.S. alone. It consumes cropland and fresh water – and it's the number one material entering landfills.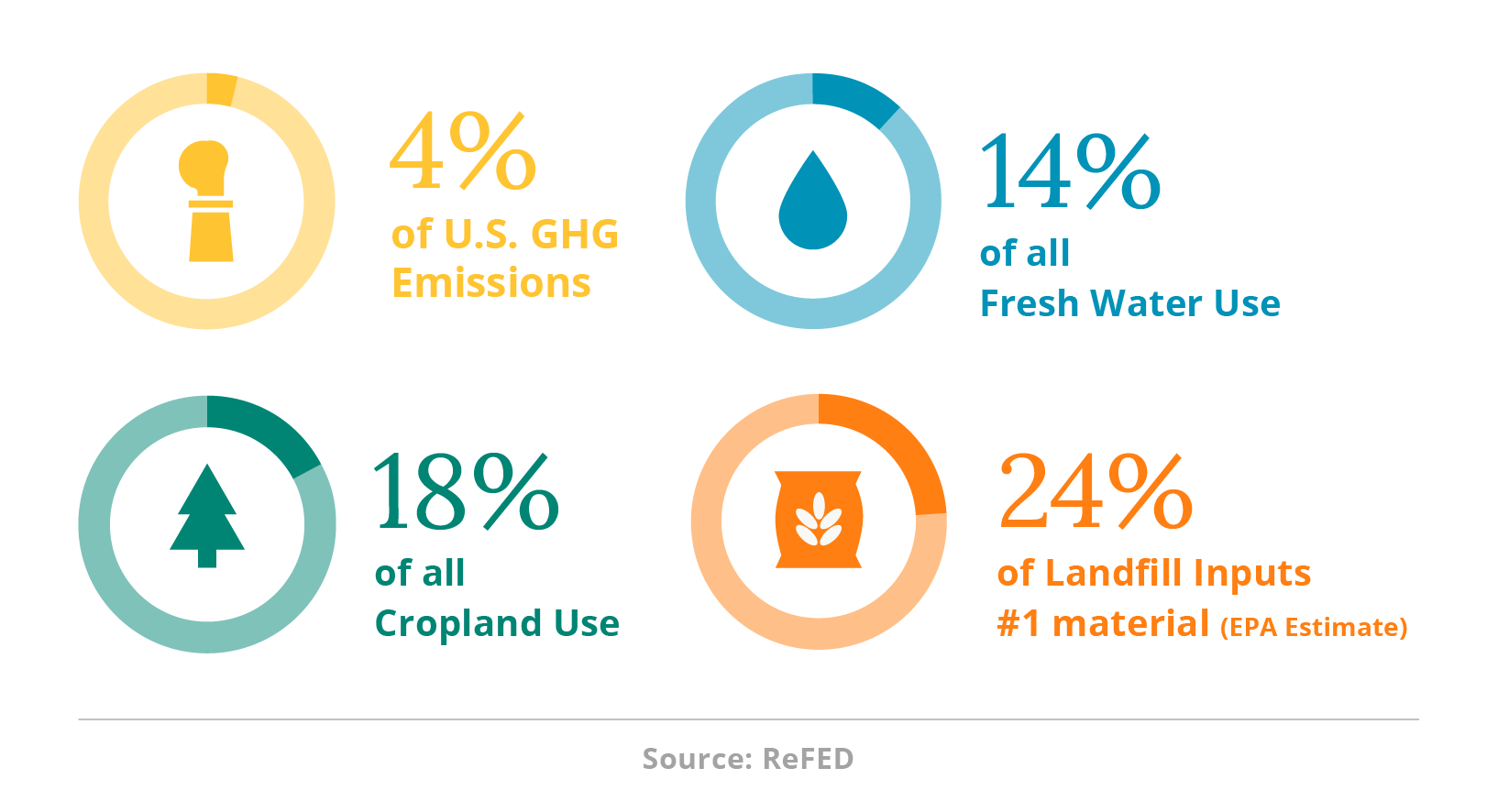 Impacts of Uneaten Food: Food Security
A huge portion of uneaten food could go to help those in need. Meanwhile, the number of people lacking reliable access to sufficient, affordable, and nutritious food grew to more than 50 million in 2020 due to the COVID-19 pandemic.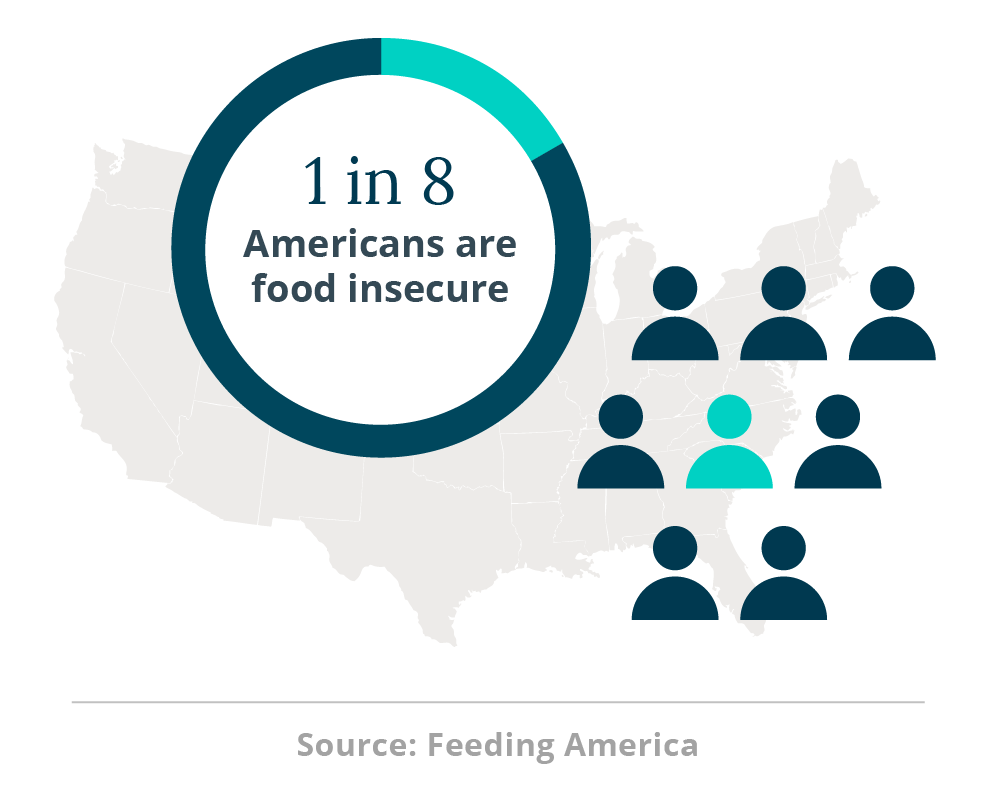 Previous
Next
Our Roadmap to 2030 can help the food system cut food waste by 50% over the next ten years.
Food waste is a systemwide problem, and solving it will require a systemwide response. Our Roadmap to 2030: Reducing U.S. Food Waste by 50% looks at the entire food supply chain and identifies seven key action areas to help guide the food system's efforts over the next ten years. In line with the "Target-Measure-Act" framework for food waste reduction that's been adopted around the world, the Roadmap to 2030 is a critical blueprint to help the food system take action.
See the Roadmap to 2030
Powered by
ReFED's Insights Engine
The Insights Engine is an online hub for data and insights about food waste, featuring a detailed cost-benefit analysis of more than 40 food waste reduction solutions; facts and figures about the impact of food waste built from more than 50 public and proprietary datasets; a directory of organizations ready to partner on food waste reduction initiatives; and more. With more granular data, more extensive analyses, more customized views, and the most up-to-date information, the Insights Engine has been designed from the ground up to provide anyone interested in food waste reduction with the information they need to take meaningful action to address the problem.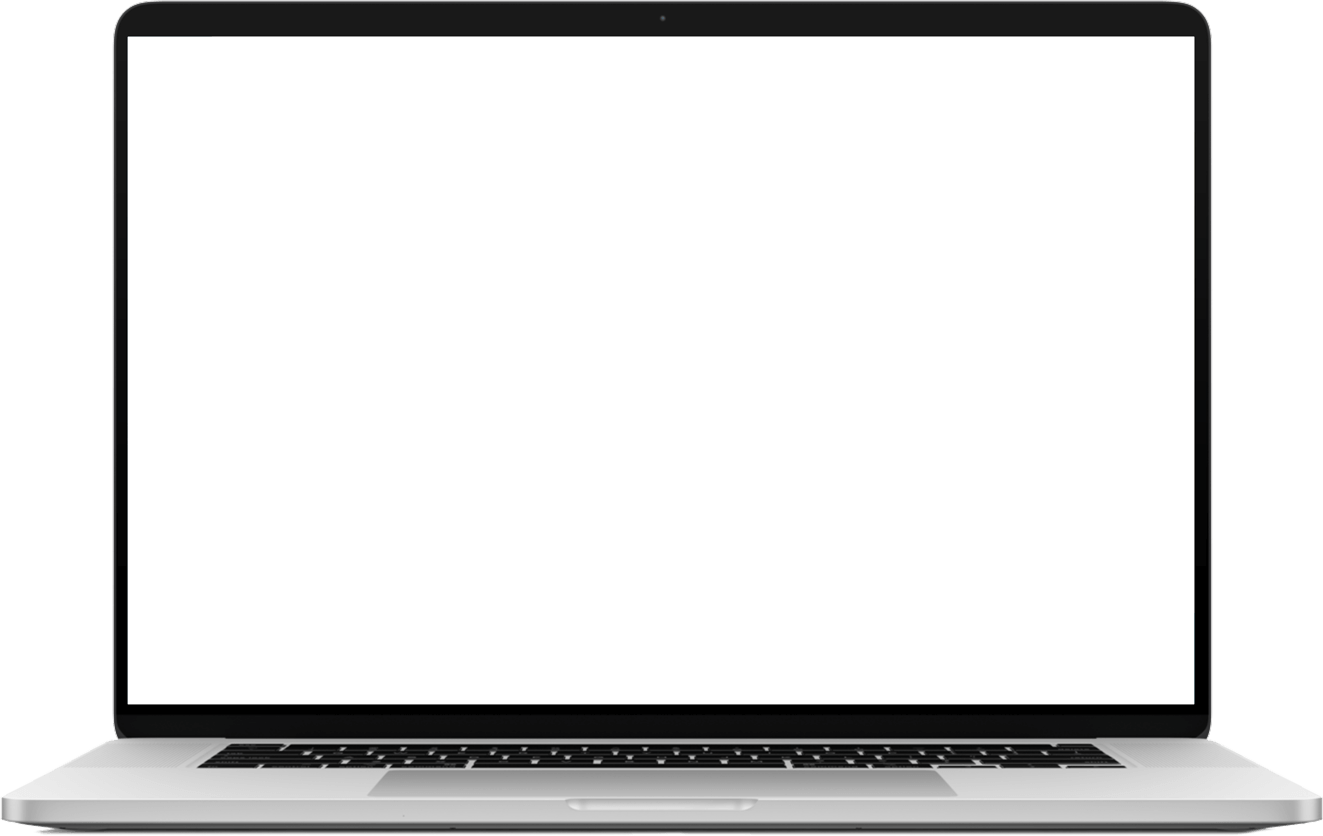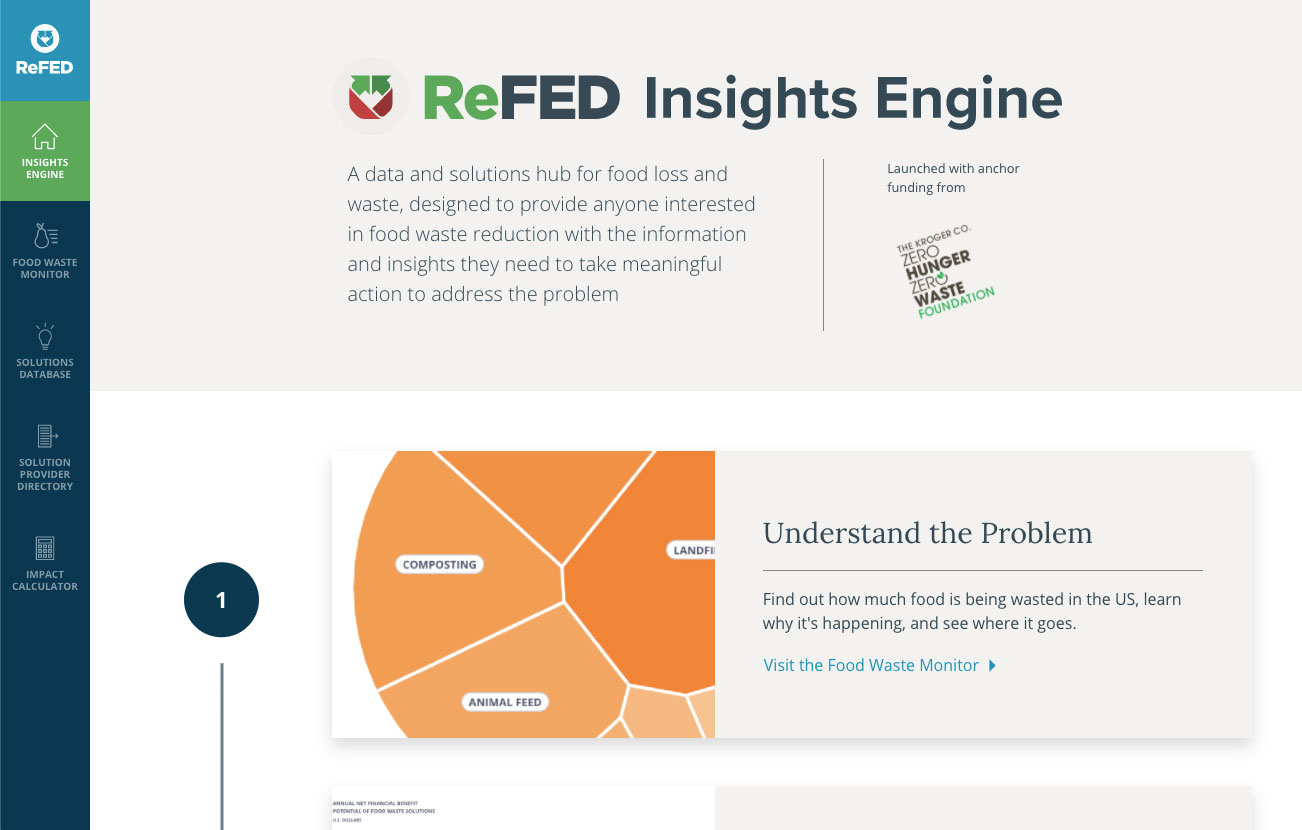 Here's How You Can Reduce Food Waste
---
Find out how to engage with ReFED no matter what field you're in.
COVID-19:
How It's Impacted Food Waste
COVID-19 sent shock waves through our entire food system, resulting in a surge of on-farm food loss, food business closures, labor shortages, and a growing number of food insecure individuals. While the early days of the pandemic saw huge increases in food going to waste, the lasting result might actually be a decrease in wasted food, as the food system and consumers learn to adapt to this new reality.
Our Funders
Collaboration is at the core of everything we do, and we could not accomplish our mission without the generous support, involvement, and enthusiasm of our growing number of funders:
*The views expressed herein do not necessarily represent those of The Kroger Co. Zero Hunger | Zero Waste Foundation or The Kroger Co.
"The Kroger Co. Zero Hunger | Zero Waste Foundation recognizes that the needs of our communities have shifted dramatically this year, and we remain focused on eliminating the additional strain that COVID-19 has created for families struggling with unemployment and food insecurity. We know that knowledge and collaboration are imperative tools on this urgent mission. That's why we're incredibly proud to be the anchor funder of ReFED's new Insights Engine and the Roadmap to 2030 — resources we believe will empower all sectors of the food system to take meaningful action to end the disparity between hunger and waste in America."
"In a swift response to issues caused by the COVID-19 pandemic, ReFED utilized their strengths to support the environment, food producers, restaurants and the many who needed hunger relief. Relying on their expertise allowed us to deploy capital quickly both locally and nationally to some of the most impactful actors in the space and helped us give organizations the capital they needed to scale during a time when their innovations and services are critically needed."
The U.S. produces more than enough food to nourish our entire population, yet waste in the supply chain continues to inhibit our ability to do so. What is so powerful about our industry's collective mission is how it very tangibly sits at the intersection of hunger relief, climate change, and food justice. Consistent and equitable access to affordable and nutritious food is a basic human right, and it should never stand in the way of allowing our population to innovate and thrive. The more we can do as an industry to create dynamic and interconnected food systems, the closer we will get to building a nation with increasing access to affordable nutrition, a decreasing number of food deserts, and a more promising outlook for those experiencing food insecurity.
Previous
Next
Stay Connected with ReFED
Sign up for our newsletter and other updates.