Food Waste Solutions
Food waste is a solvable problem – here's how to do it.
Food waste has enormous impacts on our environment, food insecurity, the economy, and more, but a range of solutions already exist to reduce it. Some are breakthrough innovations, some are basic best practices, and many have a strong potential for investment returns. Across the country and around the world, businesses, jurisdictions, nonprofits, funders, and others are already making a substantial effort to address the challenge. But much more needs to be done to achieve national and international goals to reduce food waste by 50% by the year 2030.
ReFED's food waste analysis estimates that an annual investment of $18 billion can reduce food waste by 58 million tons each year. That investment would result in $74 billion in annual net financial benefit – a four-to-one return. Plus, every year, it would reduce greenhouse gas emissions by 109 million metric tons, save six trillion gallons of water, and recover the equivalent of 4.3 billion meals for people in need. And full implementation of our modeled solutions would create 60,000 jobs. Our Roadmap to 2030 and Insights Engine can help the food system do it.
A Guide for Taking Action
Roadmap to 2030: Reducing U.S. Food Waste
Food waste is a systemwide problem, and solving it will require a systemwide response. ReFED's Roadmap to 2030 looks at the entire food supply chain and identifies seven key action areas showing where the food system must focus its efforts – plus it includes a detailed financial analysis to help direct the private, public, and philanthropic capital investments needed to fund these efforts. In line with the "Target-Measure-Act" framework for food waste reduction that's been adopted around the world – and building on our landmark 2016 Roadmap to Reduce U.S. Food Waste – the Roadmap to 2030 is a comprehensive blueprint to help food businesses, governments, funders, nonprofits, and more take action.
Powered by
ReFED's Insights Engine
Informing the Roadmap to 2030, ReFED's Insights Engine offers a deep-dive analysis of 40+ food waste reduction solutions that spans all seven key action areas. And it provides you with all of the data and insights you need to bring a food waste reduction plan to life in your business or jurisdiction – including a granular analysis of food waste by sector, state, food type, cause, and impact; a cost-benefit analysis of each reduction solution; a overview of food waste funding from industry trends to deal-level details; a directory of solution providers to help; and a review of policies at the federal and state levels.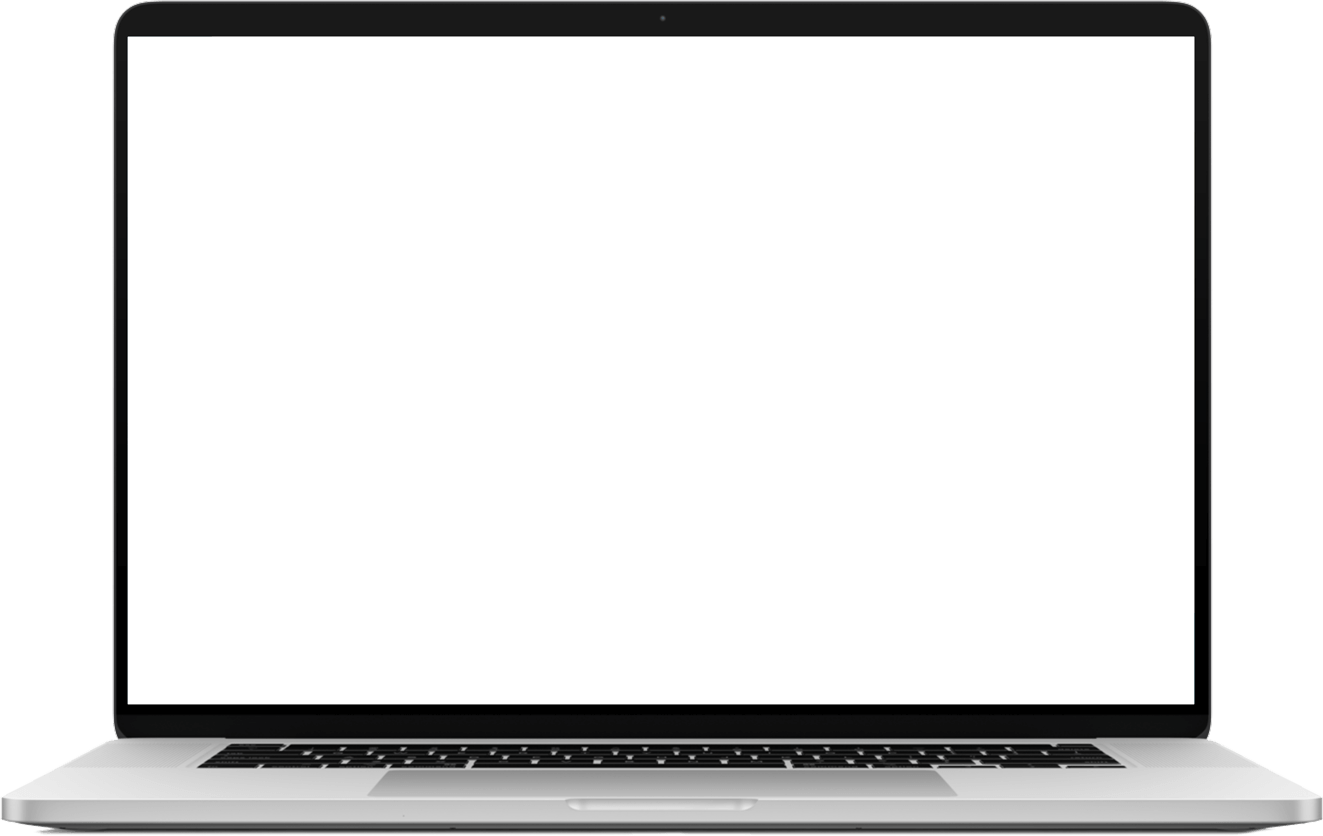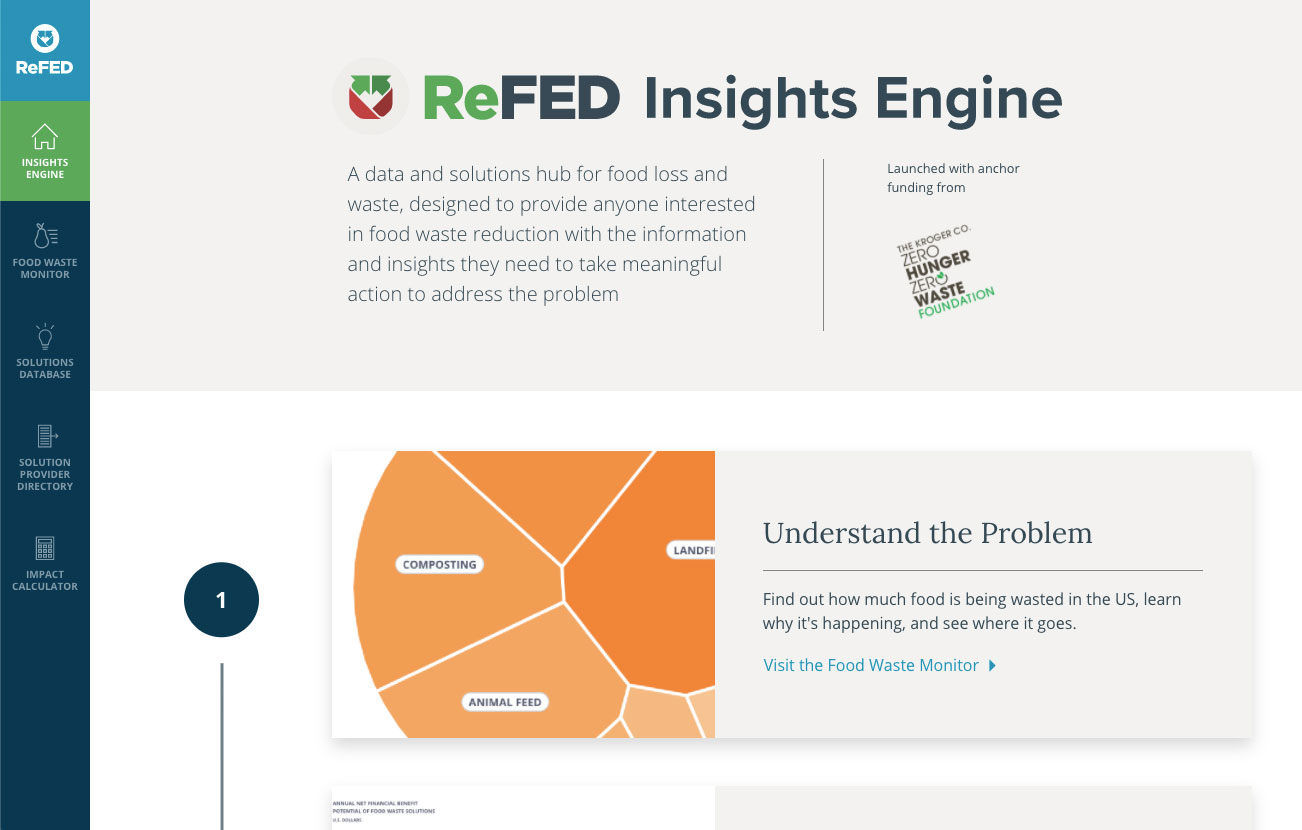 Key Action Areas
These are the seven areas where the food system must focus its efforts over the next ten years to prevent, rescue, and recycle food at risk of going to waste.
Learn More
Solutions
Within each action area are a range of solutions, including those that we've modeled using key data points, promising solutions that we're still gathering data on, and best practices that many organizations have already worked into their operations.
Learn More
Levers
Key levers include important supporting efforts that enable or accelerate the adoption of solutions, including financing, policy, innovation, and engagement.

Learn More
Stakeholder Recommendations
Each stakeholder has a unique role to play to advance solutions adoption across the key action areas. These recommendations outline specific calls to action for each sector of the food system, as well as funders and policymakers.
Learn More
Key Action Areas
These are the seven areas where the food system must focus its efforts to make a meaningful reduction in the amount of food going to waste across the food supply chain. They align with the food recovery hierarchy of prevention (stopping waste from occurring in the first place), rescue (redistributing food at risk of going to waste to people), and recycling (repurposing waste as energy, agricultural, and other products). We've placed a focus on articulating prevention-related action areas, as they typically have the greatest financial and environmental impact compared to the investment required, yet have received less attention than rescue and recycling in the past.
Solutions
The ReFED Insights Engine features a deep-dive analysis of more than 40 food waste reduction solutions spanning our seven key action areas. Some are simple, some are more complex, some are existing best practices, and some are brand new breakthroughs. Many have a strong potential for investment returns, and others are already being implemented successfully by organizations that are actively seeking funding partners to help scale their efforts.
Solutions are grouped into the categories below – and you can view all solutions grouped by action area HERE.
Modeled Solutions
Solutions for which a quantitative estimate of effectiveness in diverting food waste, as well as cost and benefit expectations to multiple stakeholders, were able to be compiled based on data from solution providers, scientific studies, and expert guidance.
UNMODELED Solutions
Additional solutions for which we identify their key action area and the stakeholders who would benefit from or incur a cost of implementation, as well as describe qualitatively what they mean and how they work – but for which we have not yet obtained sufficient external data to fully model.
Best Practices
Interventions which are either not clearly definable as a specific solution, such as incremental improvement of existing common processes, or solutions that have already been implemented by a sufficiently large number of stakeholders such that there is little additional opportunity for them to address food waste that is still happening in the U.S. today.
These solutions can reduce food waste by 58 million tons each year.
MODELED SOLUTIONS ONLY – UNMODELED SOLUTIONS AND BEST PRACTICES CAN TAKE THIS AMOUNT EVEN HIGHER.
(Annual Figures)
Levers
These essential tools can facilitate the implementation – and scaling – of food waste reduction solutions:
Financing
Effective action against food waste requires a smart matching of the correct type of capital with the appropriate opportunity, and in many cases, multiple types of capital are required to fund food waste reduction solutions from conception to adoption.
Significant Involvement by the Ultimate Solution Adopter - Adopting solutions will require food businesses, such as retailers, food service operators, restaurants, manufacturers, distributors, and producers, to contribute financial and human capital, as well as overall behavioral change. Many food waste solutions have an expected return on investment that can meet return thresholds of these entities; they just need to understand the direct, measurable, and tangible benefit to the business in order to devote organizational bandwidth to these opportunities. Corporate investment decisions largely occur because many solutions are simply good business decisions. Many food waste prevention solutions can positively impact corporate operations, thereby requiring the use of Corporate Finance and Spending. Certain solution providers or technology companies whose customers are food businesses may be viewed as strategic targets for acquisition.
The Power of Catalytic Capital to De-Risk Innovation and Adoption - Catalytic Capital tends to be the first money in, thereby having a multiplier effect that stimulates larger amounts of future funding and overcomes system-level barriers. For example, many food waste solutions with valuable social and environmental benefits are not financed due to marginal profitability or the lack of proven, market-based, revenue generating business models. Catalytic Capital (including Government Grants, Non-Government Grants, and Impact-First Investments) can uniquely shift the economics of these projects above the necessary hurdle rate to attract market-rate financing.
Still Plenty of Opportunities for Alpha among Private Investors, Including Venture Capital - With ever-increasing funding round sizes, the first – of possibly many – food waste unicorns (Apeel Sciences), and growing recognition of the significant profit boosting potential for food companies in an already tight margin business, private investors, especially venture capitalists, have an important role to play in scaling and firmly establishing food waste as an investment category. Particularly, this form of capital can continue to fund cutting-edge innovation (especially as technology and reducing food waste often go hand-in-hand, including hardware- and software-driven solutions) and disruptive business models with a large potential total addressable market. We have seen new market-based innovations continuing to emerge with no signs of slowing down, as well as several early stage food waste solution providers beginning to become household names, challenging existing later stage and legacy brands and services.
Building Infrastructure with Commercial and Government Project Finance - Project Finance is necessary to cover the sheer size of the financial commitment for the build-out of facilities, equipment, and transportation, which are required to collect edible food for donations and sustainably dispose of food that was originally going to landfill. In a low interest rate environment, Project Finance can come at a historically lower cost. Enabling equipment and technologies, such as grinders for Centralized Composting and depackagers for Centralized Anaerobic Digestion, are not necessarily products that get the most attention but are vital for these processes. Local and regional capital in the form of philanthropy can also be useful in funding gaps in financing or higher-risk opportunities.
Policy
Legislative and regulatory actions can ease or enable the implementation of food waste reduction solutions. Policy and regulation are especially effective in overcoming challenges where there are 1) misaligned incentives between who is funding a solution and who is receiving the benefit; and 2) the necessity for pre-competitive business standards (e.g., food safety regulations). Additionally, federal policy plays an important role when differing state policies can make solutions implementation difficult (e.g., by standardizing conflicting data labeling requirements).
Disincentivize, Limit, or Ban Food from Landfills – Organic waste bans prohibit food waste from being sent to landfills, which in turn compels any business or other organization subject to the law (there are sometimes thresholds) to reduce their food waste. Organic waste bans are one of the most powerful ways to not only require recovery or recycling, but also incentivize preventive measures and food donations while also enabling measurement. Nine states currently have laws of this nature, as do several localities. Alternatively, while not as strong, increasing landfill tipping fees can achieve some of the same results by disincentivizing waste overall.
Incentivize Innovations that Reduce Food Waste - [Federal, State, Local; Legislative/Regulatory] Rebates, tax deductions, or other incentives to spur adoption of existing technologies and encourage innovation of new ones could be granted to businesses that employ technologies that demonstrate an ability to reduce food waste by at least 10%.
Expand Federal Food Donation Enhanced Tax Deduction or create State-Level Tax Incentive for Non-Profit Sales and Transportation Services - [Federal, State; Legislative] Under current law, in order for a donor to claim the federal enhanced deduction for food donation, donations must go to a non-profit organization that does not charge the end recipient for the food, thus excluding tax deductions for social supermarkets that sell donated food at an extremely discounted price, or food recovery organizations that charge $1 to recipients to help offset the costs of home delivery of donated foods. Expanding the federal enhanced tax deduction (or creating new state-level credits or deductions) to cover donations to the ultimate recipient at a deeply reduced price would help incentivize innovation in food recovery and donation. In addition, expanding the deduction (or creating new state-level credits or deductions) to cover transport services would help overcome one of the most expensive barriers to food recovery. These incentives could be provided at the federal or state level.
Expand Farm to Food Bank Programs – [Federal; Legislative] To reduce the financial barrier of farmers donating food, governments can set aside funds to cover the harvesting, processing, packaging, and transportation costs of donating agricultural products to food banks. Federally, Congress could continue the Farm to Food Bank Program (FTFB), authorized for $4 million/year in the 2018 Farm Bill as part of the Emergency Food Assistance Program (TEFAP), increase the funding for the program, and waive the state fund matching requirement. States can look to the Pennsylvania Agricultural Surplus System (PASS) as a model.
Engagement
Multi-stakeholder or systems-level communication, education, and training can facilitate the adoption of food waste reduction solutions. Because it's a systemwide problem, reducing food waste often requires collaboration among different sectors within the food system – and between a variety of actors outside of it, including investors, policymakers, researchers, and more. Building and using cross-sector relationships can accelerate or even enable solutions to be implemented in the first place.
Employee Training and Incentives - Staff participation and engagement in interactive employee training and waste reduction incentive programs can increase adherence to proper food safety, handling, and preparation protocols.
Cross-System Information Sharing - Data-enabled coordination and transparency platforms in new and existing partnerships can address the current gaps in information and improve accountability across the supply chain.
Pre-Competitive Collaboration - Pre-competitive collaboration, or the sharing of knowledge and resources between businesses, can drive greater efficiency in solutions adoption by breaking down existing market barriers and perceived competitive disadvantages.
Cultural and Behavior Change - Collective efforts of industry coalitions and governments in culture and behavior change can catalyze a broader audience and emphasize improved food utilization, waste reduction, and food management skills through education.
Engaging More Players - Outreach and education can increase adoption of food waste reduction measures with new businesses, policymakers, capital providers, researchers, and encourage community organizations to share practical learnings, inspire new innovations, and identify potential partnerships.
Innovation
The implementation of existing solutions can reduce a significant amount of food from going to waste across the supply chain. But there is still a need for new innovations to accelerate the adoption of these solutions and to develop new products, technologies, and business models to close the gaps where solutions either don't exist or are struggling to adequately scale.
Data Integration - Currently, technologies exist to measure and share transit data, such as temperature, GPS tracking, and more, yet these technologies could be improved through greater integration into logistics and food rescue systems to improve communication and supply chain visibility of product quality in real time, ultimately allowing for more informed decisions according to shelf life.
Cost-Efficient Tech - Research and development are needed to drive down costs for emerging technologies and processes that reduce waste yet are too expensive for scaling. Examples include spoilage and instant pathogen detectors, temperature monitors, smart labels in retail, and home kitchen food management equipment.
Contracts & Business Models - In some cases, a new approach to existing contracting and business models could disperse risk, adjust misaligned incentives or support financial sustainability of some operations. Two examples are whole crop purchasing contracts on farms and earned revenue models that support hiring staff in food rescue organizations.
Shared Platforms for Idle Assets - Matchmaking platforms can connect various assets, including cold storage, transportation, and even donatable food to the organizations in demand, thus streamlining communications and increasing access when needed.
Stakeholder Recommendations:
Here's How You Can Reduce Food Waste
ReFED offers a range of resources for organizations to advance their own food waste initiatives and waste audits. Our interactive tools, reports, and strategic solutions can help your team get started.