A Message from the Board of Directors
On behalf of the Board of Directors and staff, it is with great admiration and gratitude that I announce that Chris Cochran has shared his plans to resign as the inaugural Executive Director of ReFED. Please join me in celebrating his tenure. Through Chris' thought leadership and expertise, ReFED has evolved from a project and a desire to lead the nation in reducing food waste into a strong influential organization that has shifted the national conversation from awareness to action. We wish Chris great success in his future endeavors.While this marks the end of an important chapter in ReFED's growth, the Board is thrilled to announce that Dana Gunders will become our Interim Executive Director. As one of the nation's leading experts on the topic, we are confident in Dana's leadership and the team's ability to move ReFED forward into 2020 and beyond to build a more efficient and equitable food system with our stakeholders.
Sincerely,
Jesse Fink,Chair,
ReFED Board of Directors.
A Letter from our Inaugural Executive Director, Chris Cochran
Dear ReFED Community,After two and a half years as the inaugural Executive Director of ReFED, with pride in what we have accomplished and hope for the future, I have decided to resign from my role and pursue new professional opportunities. Two and a half years ago, ReFED was the 2016 Roadmap to Reduce U.S. Food Waste by 20 Percent and an idea that something more must be done. Since then, we have established ReFED as an independent nonprofit organization and a leading think-and-do tank to accelerate solutions to food waste. ReFED has developed distinctive roles as thought leader, convener and advisor. As thought leader, ReFED cemented our strength and reputation as the most trusted source of data, insights and guidance on food waste. We built on our foundation of the Roadmap and advanced knowledge across the food system through numerous reports and tools, culminating in the creation of the ReFED Insights Engine. As convener, we have gathered a multistakeholder network of thought leaders and decision-makers to enable collective action, including as host of the 2019 Food Waste Summit. We have also formed unique partnerships with nonprofits, government agencies and industry associations to coordinate our efforts and maximize our impact. As advisor, we have catalyzed action through capital and innovation. We have advised leading foundations, investors and businesses and created a first-of-its-kind nonprofit Food Recovery Accelerator.It has been a privilege and a joy to work with all of you, the hundreds of thought leaders and decision-makers from across the public, private and nonprofit sectors, to create a more efficient and equitable food system. We come from a wide variety of stakeholder groups: food and technology companies, startups, investors, foundations, nonprofits and policymakers. We have a wide spectrum of motivations ranging from hunger relief to job creation, environmental impact to financial returns. However, we hold this in common: we see food waste as a solvable problem and a tremendous opportunity to create value.I am incredibly proud of what we have accomplished together as we have pivoted the food waste reduction movement from building awareness to scaling action to achieve our common goal to cut food waste in half by 2030. Food waste is a burgeoning sector of technology and business model innovation with hundreds of millions of dollars being invested in cost-effective solutions. In addition, enabling policies are being deployed at the federal, state and local level. Our work is not done. Achieving our common goal to cut food waste in half will require our sustained collective action. As I depart, I am confident that ReFED will continue to play a critical role in the food waste reduction movement, addressing the pressing issues of our time, including climate change, food insecurity, chronic disease and economic disparity. ReFED is equipped with a clear strategy and distinctive strengths to enable its next chapter of scaled impact. I have confidence in the Board, team and Dana Gunders' leadership as interim Executive Director. I wish ReFED great success in the future and look forward to supporting the organization in new ways in my next chapter.It has been a privilege to work with each of you. I look forward to continuing our relationship in new capacities as we pursue our shared mission to create an efficient and equitable food system.
Sincerely,
Chris Cochran.
Welcome Dana Gunders: ReFED's Interim Executive Director
Dana Gunders is a national expert and one of the first to bring to light just how much food is wasted across the country. For almost a decade, she was a Senior Scientist at the Natural Resources Defense Council (NRDC). She then launched Next Course, LLC to strategically advise on the topic. Some of her career highlights include authoring the landmark Wasted report and Waste Free Kitchen Handbook, launching the Save the Food campaign, testifying in Congress, consulting to Google, appearing on John Oliver, and perhaps most importantly, being a founding Board Member of ReFED.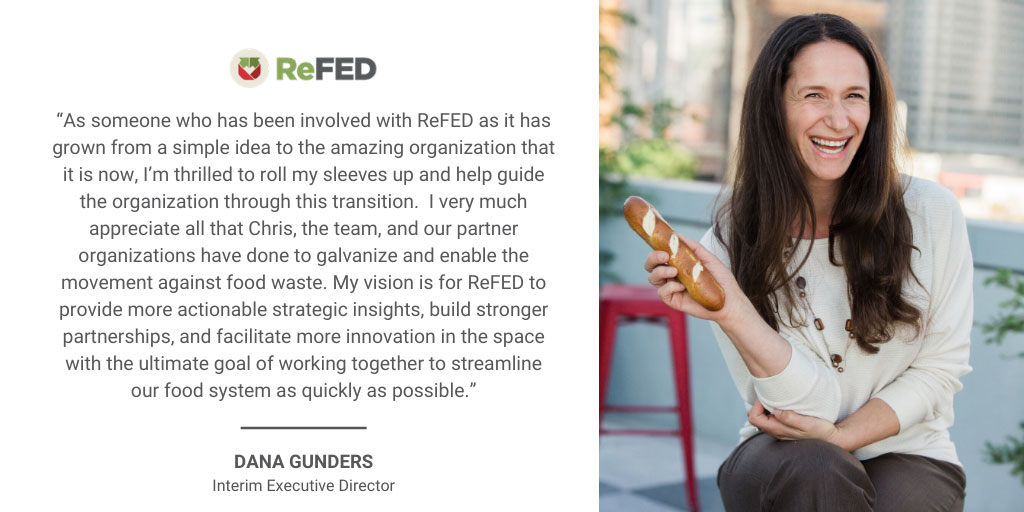 Highlights from the 2019 Food Waste Summit, hosted by ReFED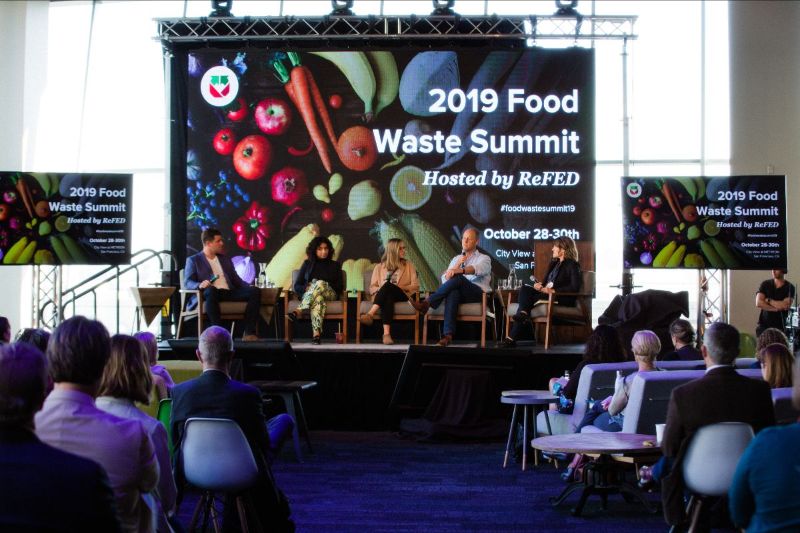 The 2019 Food Waste Summit hosted by ReFED paved the path to progress by bringing together over 400 stakeholders to unlock the $100 billion+ opportunity to cut food waste in half by 2030. Here are some of the highlights from the event that herald why ReFED is at the forefront of catalyzing solutions that can be achieved collaboratively.
Click here to read about the exciting events at the Summit!
Upcoming Events: $100,000 Showcase and Final Learning Lab
ReFED and Feeding America will co-host the final showcase of the ReFED Nonprofit Food Recovery Accelerator cohort in Chicago, IL on December 4th, where we will announce the Accelerator $100,000 winner! This in-person ReFED Learning Lab will close out the three-month Accelerator program and feature panel discussions with food industry experts, a front row seat to the cutting-edge solutions from the 10 impact-driven innovators, and opportunities to build relationships with food industry and funding leaders, as well as ReFED's 2019 Accelerator cohort!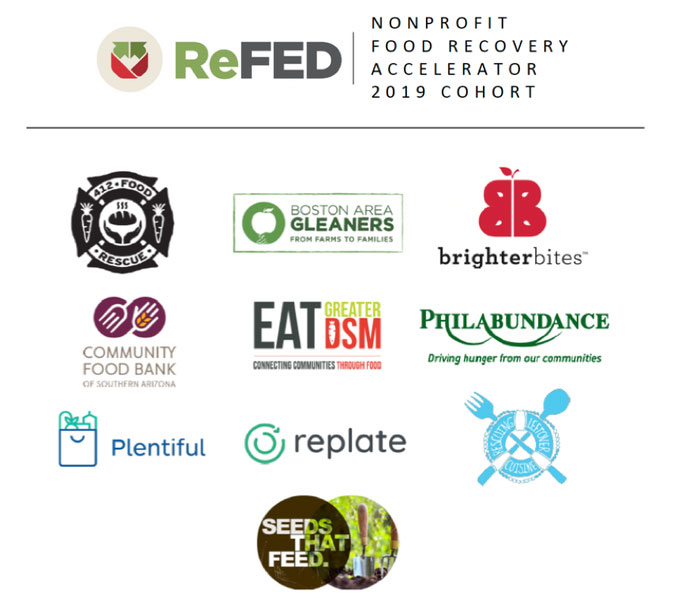 The in-person ReFED Learning Labs focus on leveraging earned revenue models, technology solutions, and human-centered design to catalyze ideas and inspire actions that will lead to a doubling of healthy food available to the 40 million Americans facing food insecurity.
Join the Data Alliance
In 2020, ReFED will launch the ReFED Insights Engine, a digital-first, continuously updated platform to house the next generation of data and insights on food waste. This platform will be a generational leap that builds upon previous work developed by ReFED. If you are a food business, capital provider, or solution provider and would like to contribute your data by joining the Data Alliance, please download the Insights Engine overview to learn more about and contact us at insights@refed.org.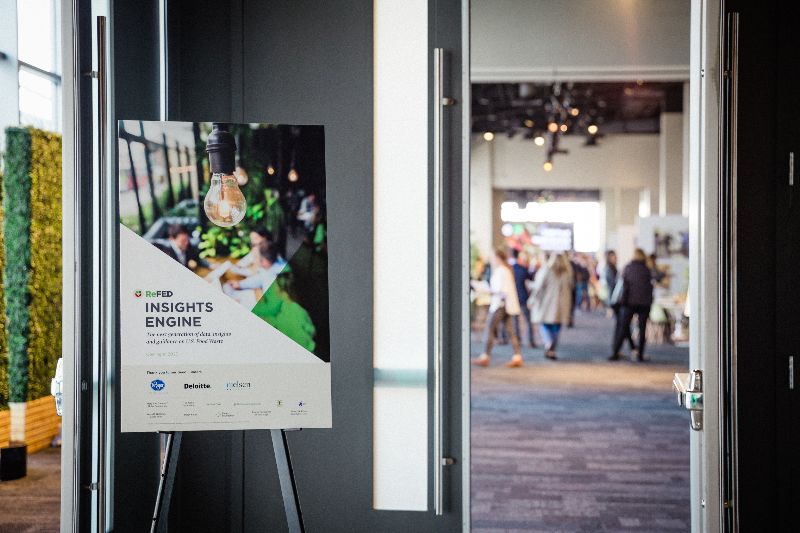 ReFED Expands
As our mission grows, so does our team. We recently welcomed three new Fellows: Parker Hughes, Nathan Lohrmann and Vanessa Mukhebi. Parker joins ReFED in support of our Capital & Innovation program, Nathan is working on ReFED's Stakeholder Engagement team and Vanessa will join the Communications team. Visit our website for more details.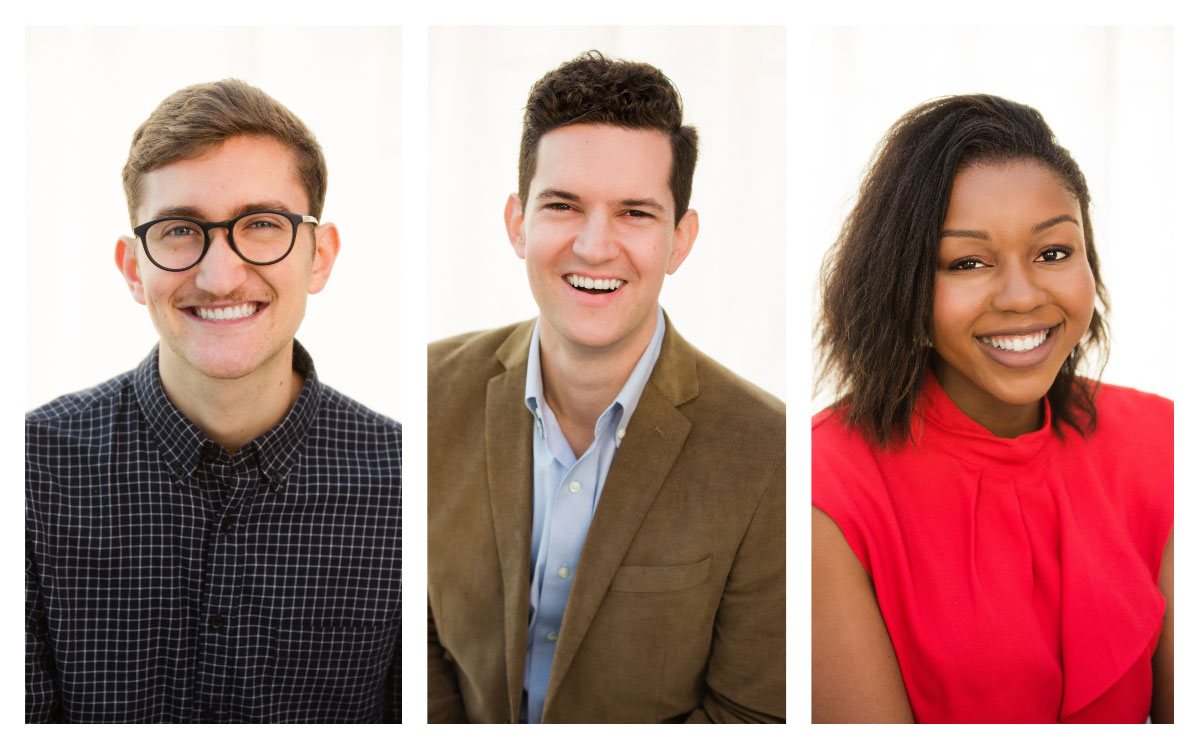 Get a Weekly Dose of Food Systems Expertise
The Accelerator Expert Network Knowledge Series highlights insightful interviews with members of the ReFED Nonprofit Food Recovery Accelerator's Expert Network, representing a diverse group of food businesses, capital providers, government agencies, technology companies and food systems subject matter experts. Throughout the course of the three-month Accelerator program, a new interview will be released each week. Access the lastest interview here.
ReFED in Action
Strategizing at SOCAP 19: Joined by panelists from City Harvest, Food Forward and Whole Crops, ReFED's Capital & Innovation Director, Alexandria Coari, moderated the SOCAP 19 panel on why investment and innovation in food waste is crucial for food equity
'Hunger and the Environment' podcast hosts ReFED: What is the higher purpose of food? Listen in as ReFED's Operations Director, Katy Franklin, discusses how food waste reduction and innovative technologies can create an efficient and equitable food system on Second Harvest Heartland's new podcast: Hunger and the Environment.
Opportunities to Get Involved
DoorDash Open Call for Nonprofits: Over the next few months, DoorDash will be launching an open call for in-kind logistics grants for any nonprofit organization who believes that by leveraging the power of DoorDash's logistics platform, they can scale their impact to new heights. ReFED is partnering with DoorDash throughout the process to help them launch a successful open call. Contact us at acceleration@refed.org to learn more about this exciting opportunity.
Food Shift Seeks to Grow its Kitchen: The Food Shift kitchen is expanding and they need your help. Donate to their campaign and grow their efforts to reduce waste, feed more people, and create more jobs! What's more, get a taste of an artisanal vegetarian feast during their Holiday party on December 14th in Berkeley, CA with special guest speaker, Robert Egger, founder of DC Central Kitchen and LA Kitchen. Register here.
Zero Waste Workshop in NYC: Learn tips and tricks on simple zero waste gift ideas this holiday season. Sign up for the Zero Waste NYC Workshop, hosted by the Foundation for New York's Strongest in New York, NY, here.
Do You Have News to Share?
Let us know if there are food waste related events or important news stories you'd like to share with ReFED's community. Email info@refed.org with updates for potential inclusion in future newsletters.