We have all heard it countless times before: up to 40 percent of the food in the United States is never eaten each year, yet one in nine Americans struggle to put enough food on their plates.
The monumental moment to shift our focus from awareness to action is now. So, how do we move from mere information about this paradoxical challenge to transformation to a more efficient, equitable and dignified food system for the sake of our economy, our planet and our people? Drawing on a data-driven, solutions-oriented analysis and multistakeholder network, the 2019 Food Waste Summit hosted by ReFED paved the path to progress by bringing together the necessary stakeholders to unlock the $100 billion+ opportunity to reduce food waste in half by 2030. The Summit took place at City View, METREON in San Francisco, CA, on October 28-30th 2019.
Here are some of the highlights from the event that herald why ReFED, the only nonprofit wholly dedicated to reducing U.S. food waste, is at the forefront of catalyzing solutions that can be achieved collaboratively.
1. The Largest Gathering of the Most Influential Food Waste Experts
When a room full of over 400 influential food businesses, investors, policy makers, foundations, nonprofits, innovators and academics gather, ideas turn to implementation, purposeful connections are curated and the possibility to meet our ambitious goal is within reach.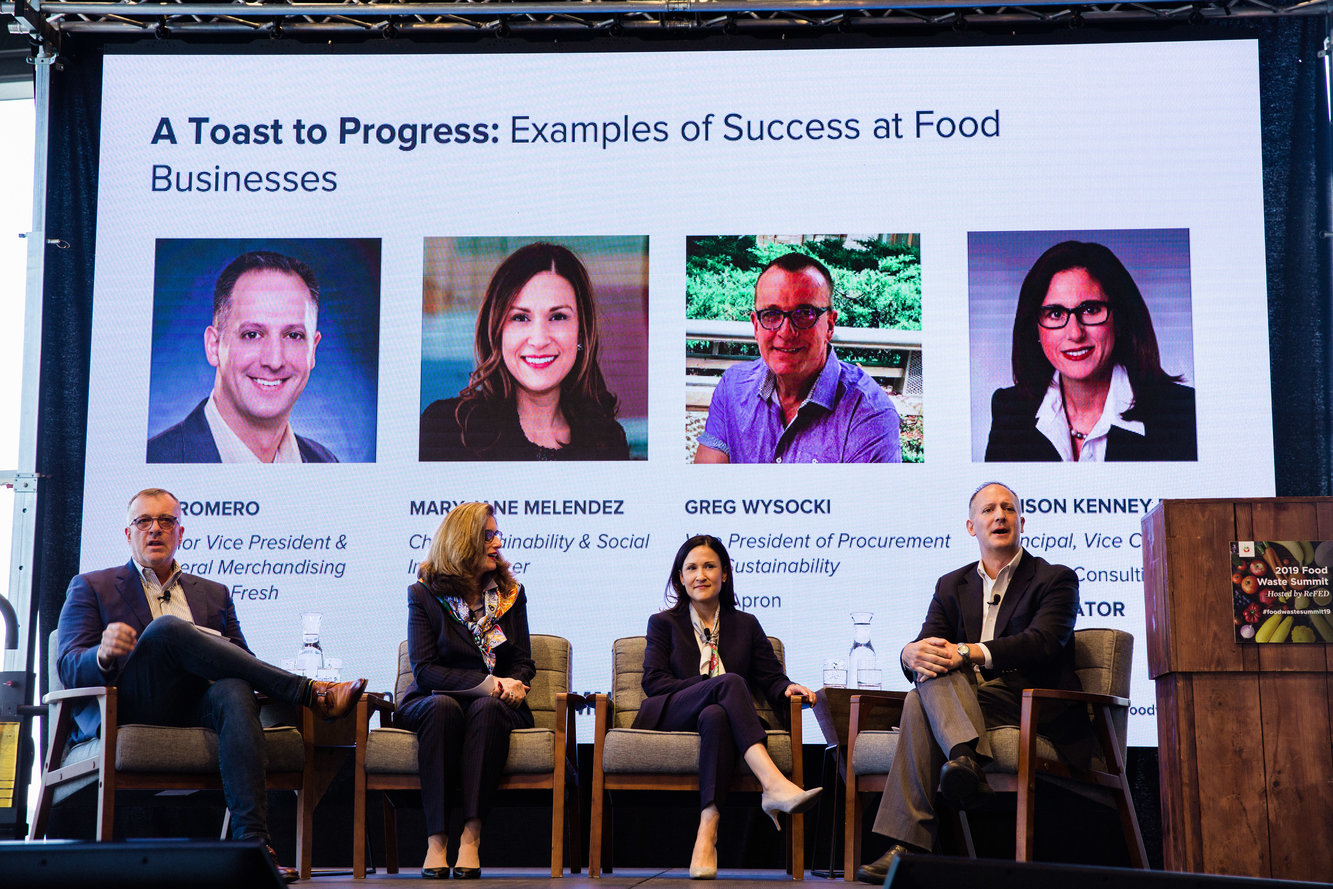 The dynamic industry groups in attendance, with representation from 34 states and 11 countries, ignited insightful discussions and shared scalable strategies to turn wasted food into economic growth, hunger alleviation, improved health and environmental stewardship.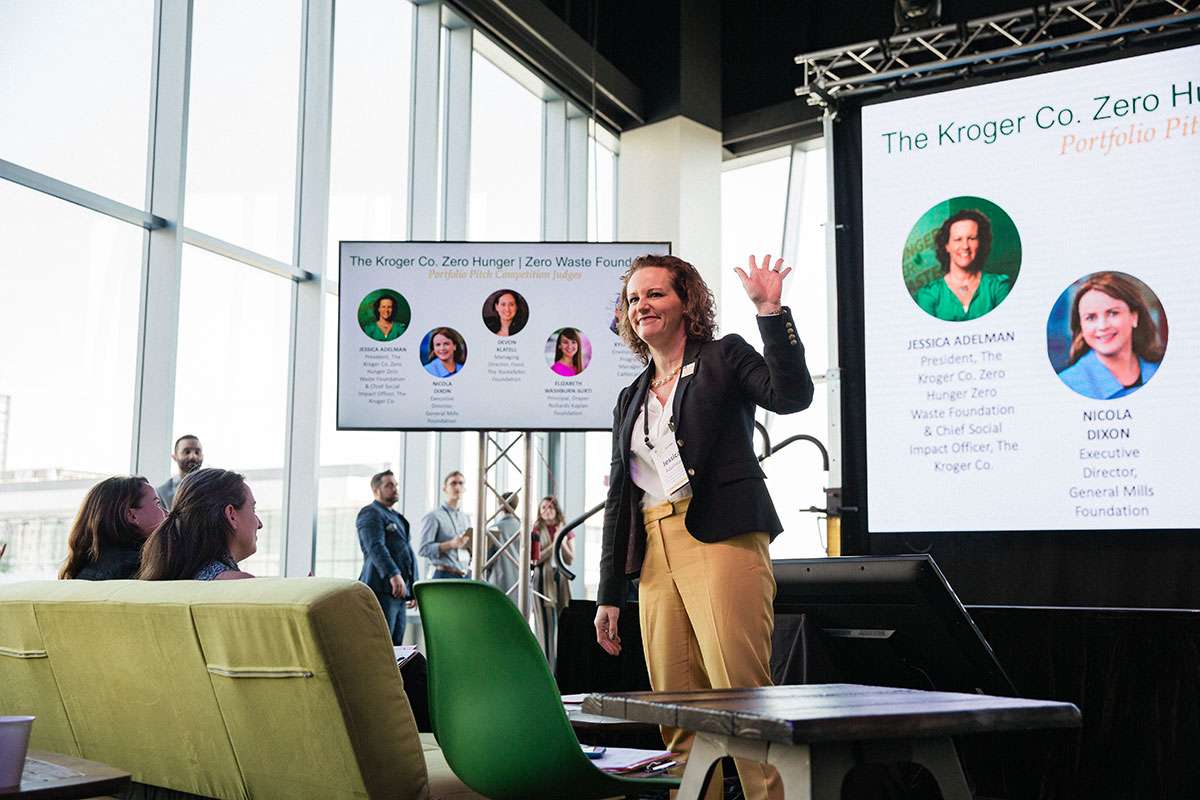 Some of the 50 notable speakers from the three-day event include: Jessica Adelman, President of The Kroger Co. Zero Hunger | Zero Waste Foundation and Group Vice President of Corporate Affairs at The Kroger Co, Walter Robb, Former Co-CEO Whole Foods, Mary Jane Melendez, VP, Chief Sustainability & Social Impact Officer of General Mills, Kathleen Salyer, Deputy Director of the Environmental Protection Agency, Ami McReynolds, Chief Equity and Programs Officer of Feeding America, and Jigar Shah, Co-Founder and CEO of Generate Capital, among others. An emergent theme that ran across these thought-provoking presentations was the inherency to develop systemic thinking and catalyze solutions that can be achieved collaboratively.
2. Bigger, Brighter and Bolder Ideas to Drive Scalable Action
Imagine this: an Insights Engine that has the potential to mitigate our national food waste problem by robustly tracking in real-time the amount, causes, and destinations of food waste, a mobile blast chiller designed to rapidly cool food as it's driven, improving food safety for donated food, or a million dollar opportunity to create value from pomegranate husks? Attendees at the Summit witnessed the revelation of revolutionary tools geared towards moving the food system from acting on instinct to insight-driven actions.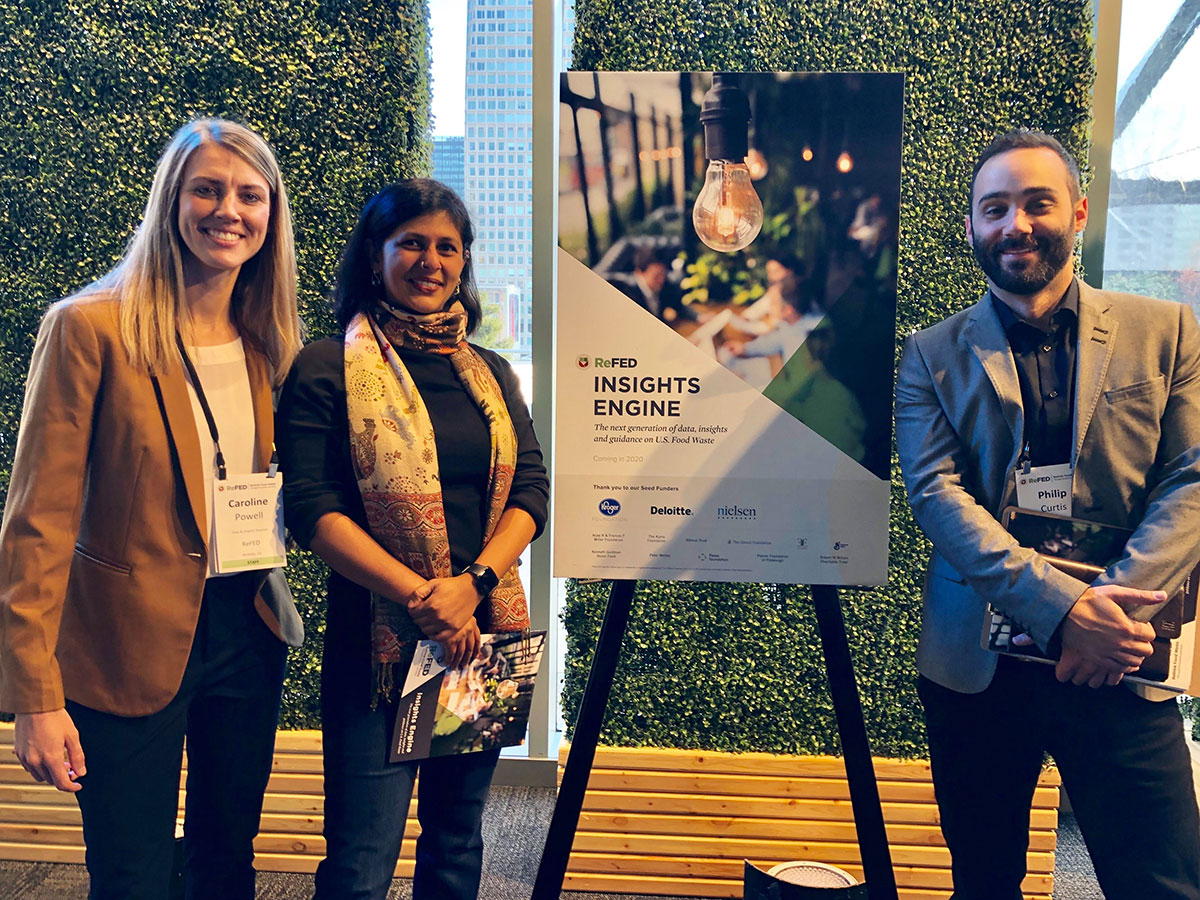 The ReFED Insights Engine, launching in 2020, is a digital-first, continuously updated platform that will house the next generation of data, insights and guidance on food waste and solutions. Food businesses, capital providers, and solution providers have a leadership opportunity to report data for use in the Insights Engine and co-develop the best-in-class data by joining the Data Alliance. ReFED is grateful to our seed funders for investing in and partnering on the initial stages of this work, in particular The Kroger Co. Foundation, Deloitte and Nielsen. To learn more about this project, download the Insights Engine overview and contact us at insights@refed.org.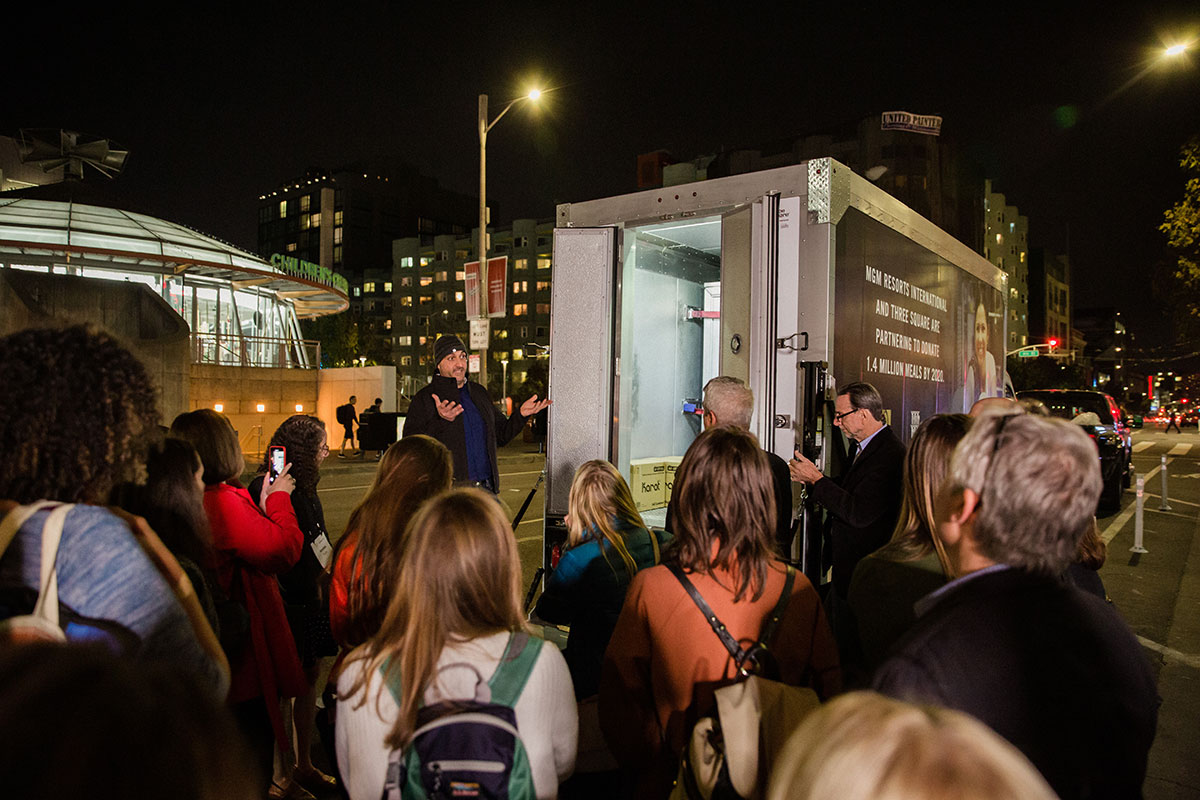 While blast chilling technology is not new in food preservation, it has never been installed in a moving vehicle. MGM Resorts International, Three Square Food Bank and Peravan showcased the mobile blast chiller prototype at the Summit, which will rapidly and uniformly decrease the temperature of prepared foods to optimize food safety and scale food recovery across the world.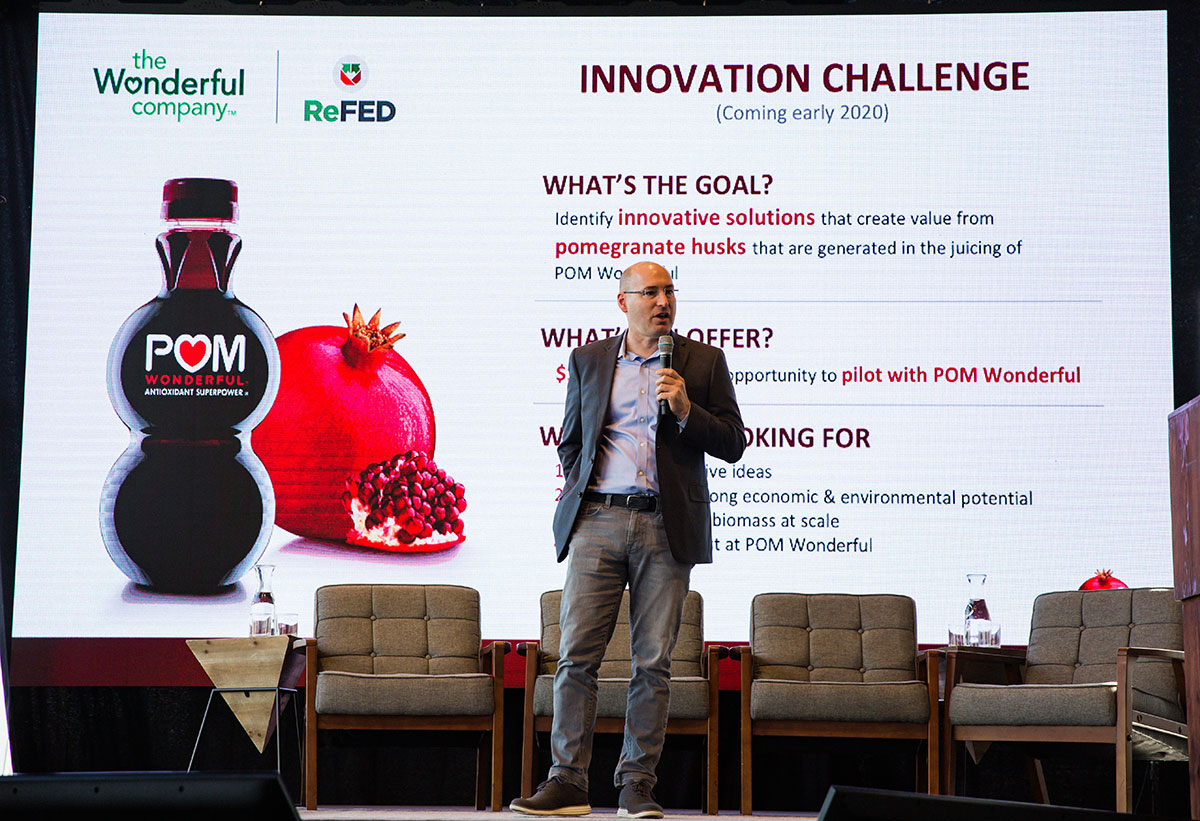 Do you have a groundbreaking idea? The Wonderful Company announced the launch of the POM Innovation Challenge to find bold innovative solutions that can transform pomegranate waste streams into sustainable scalable solutions that generate tangible economic and environmental value.
3. Innovation Accelerated to New Heights
What do technology solutions, food recovery, human-centered design and business development have in common? Innovator Excellence Day, organized in partnership with The Kroger Co. Zero Hunger | Zero Waste Foundation and ReFED's Nonprofit Food Recovery Accelerator, ushered exceptional expertise and entrepreneurship from 16 cutting-edge food waste innovators.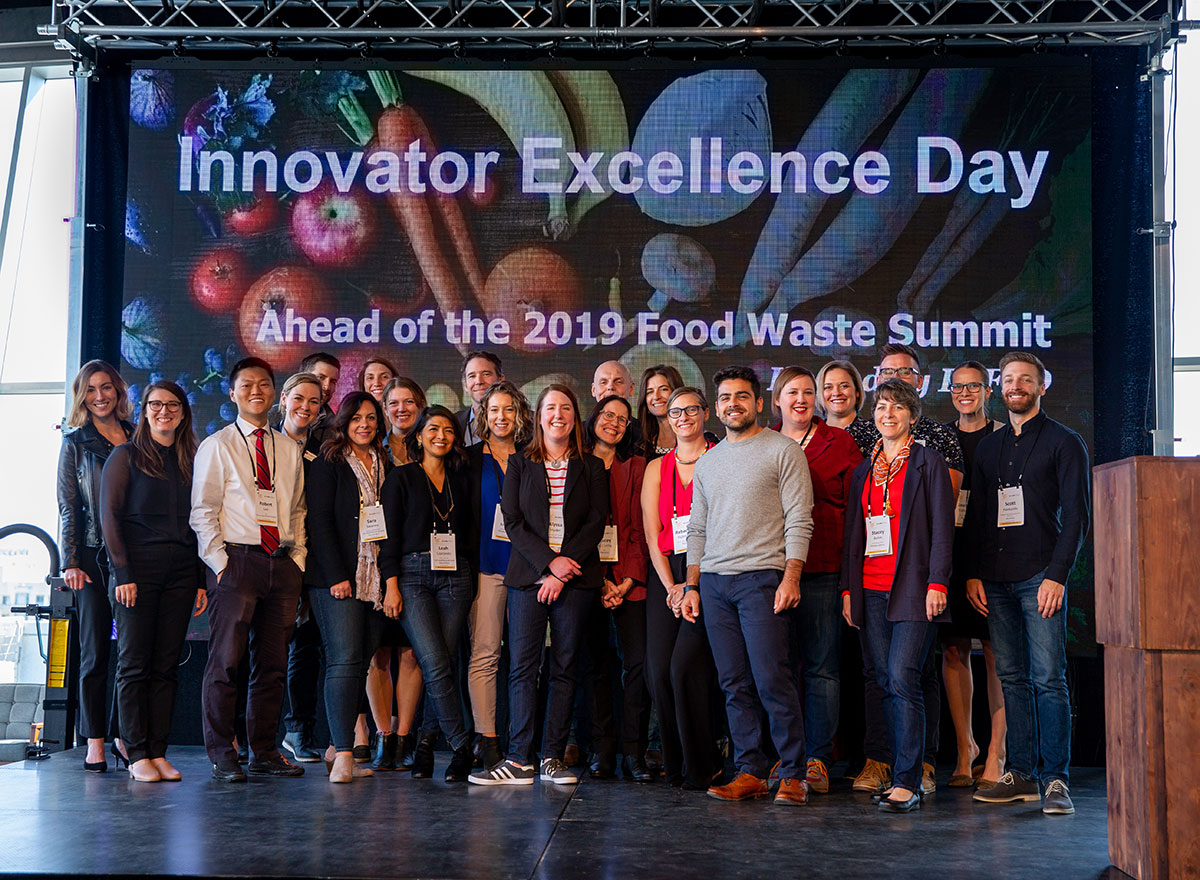 The inaugural ReFED Nonprofit Food Recovery Accelerator cohort range from 10 long-standing food recovery organizations with hundreds of employees servicing thousands of donors, to newly formed innovative organizations that leverage concepts from the sharing economy and apply them to food rescue. Through five-minute presentations focused on their earned revenue models, attendees got a front row seat to the new food waste prevention, recovery and recycling solutions from the fastest growing nonprofits as well as a chance to hear their bids for potential piloting and funding opportunities. "It's inspiring to see the enormous value and exposure the Innovator Excellence Day programming brought to these world-class innovators who were highlighted — a remarkable opportunity to share best practices, identify complementary initiatives and forge partnerships to maximize impact," explains Alexandria Coari, Director of Capital and Innovation at ReFED.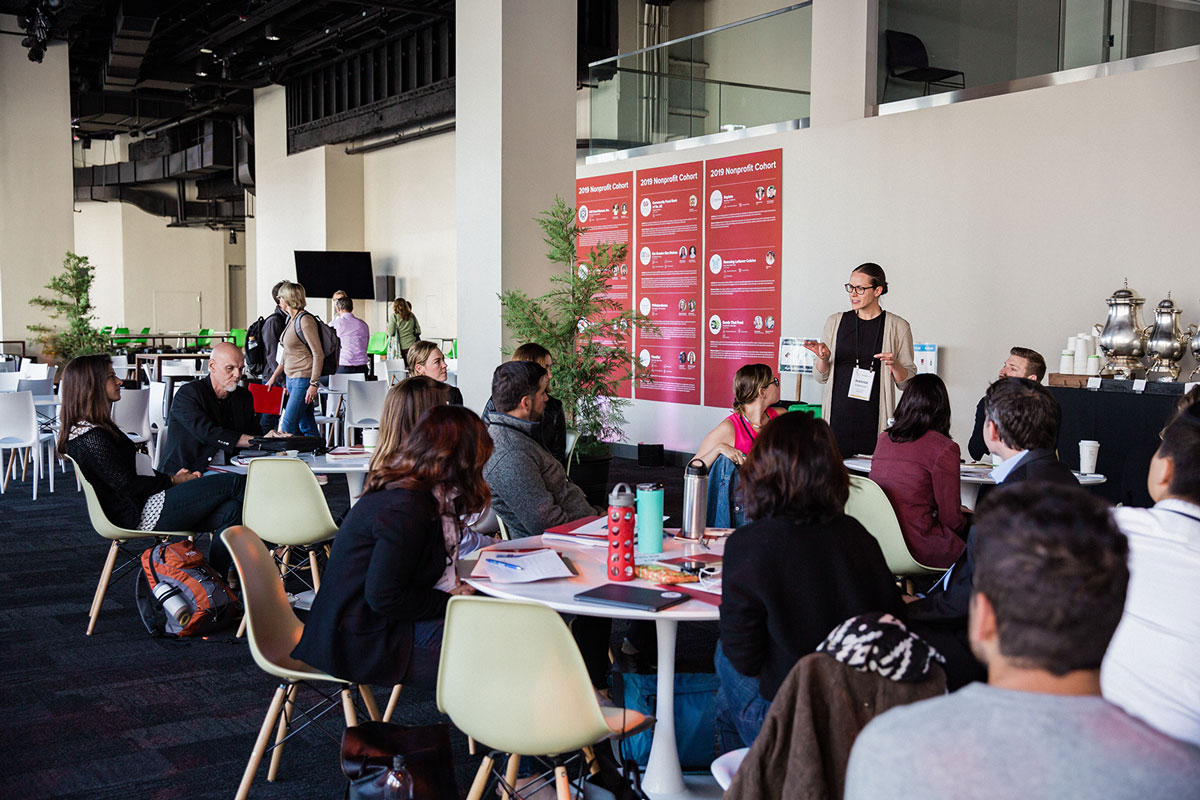 As one innovator put it, mitigating food waste and redirecting it to those who need it is not only the right thing to do socially, environmentally and from a sustainability perspective, it also provides immediate benefits to public health. "We're so grateful to ReFED for the opportunity to elevate the importance of this issue at Innovator Excellence Day and discuss our unique goal of converting food waste into a public health opportunity. We are incredibly honored to be a part of this inaugural cohort of diverse organizations working towards meaningful and measurable solutions to prevent, recover and recycle food waste in a dignified scalable way," said Ragen Doyle, Director of Development at Brighter Bites.
Join ReFED and Feeding America, in Chicago, IL, on Dec 4th for the $100,000 Showcase and final in-person Learning Lab of the ReFED Nonprofit Food Recovery Accelerator. Register here!
4. Pitch Perfect: A Zealous Charge to Zero Hunger and Zero Waste
In the words of mobius, "it's called garbage can, not garbage cannot." The innovator received $35,000 for winning first place and the People's Choice Award in an interactive $50,000 Portfolio Pitch Competition for the inaugural seven-member cohort selected to participate in The Kroger Co. Zero Hunger | Zero Waste Foundation's Innovation Fund. mobius converts industrial organic waste streams from food, forestry and agriculture into renewable chemicals, materials and energy.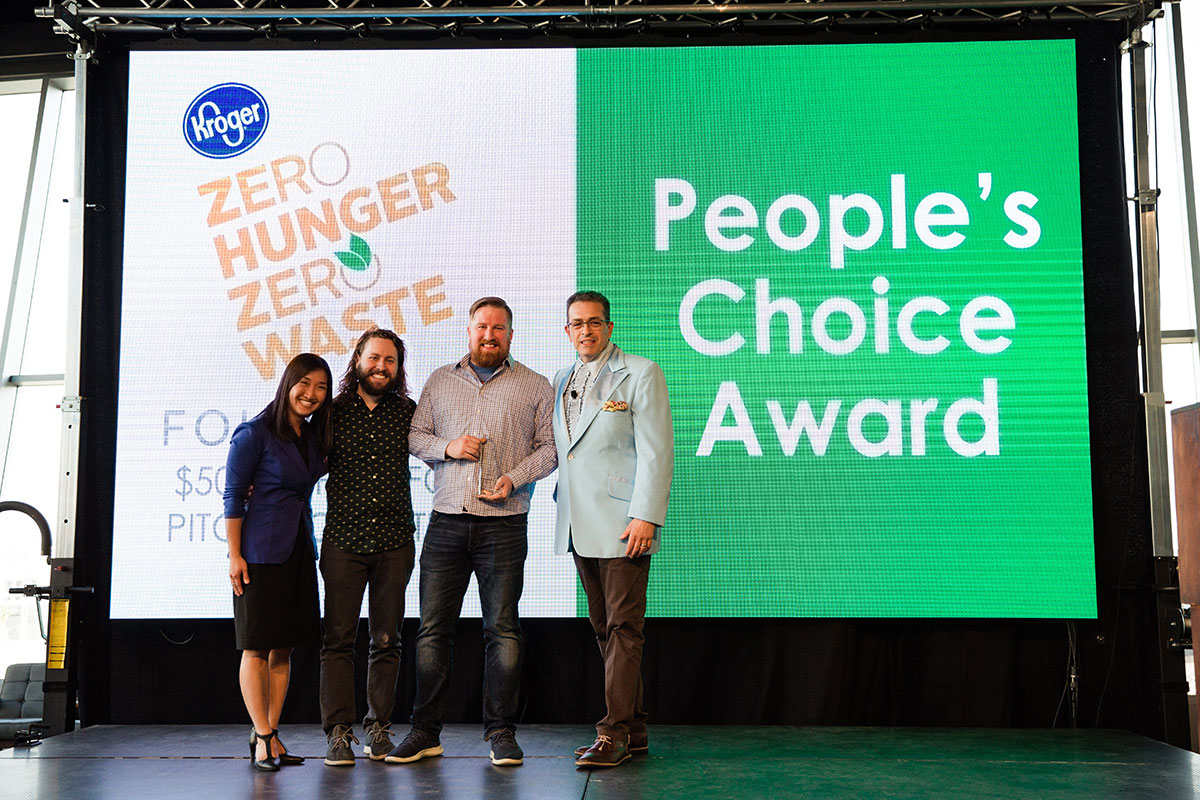 Winnow, which was awarded $15,000 for winning second place, uses an artificial intelligence-enabled technology to track and pinpoint food waste in commercial kitchens.
The Kroger Co. Zero Hunger | Zero Waste Foundation's Innovation Fund provides philanthropic funding to support entrepreneurs and creative thinkers with solutions to improve food security and prevent food waste across America. The inaugural open call resulted in grants totaling $1 million for projects across the food waste hierarchy of prevention, recovery and recycling solutions. Read more about it here.
5. Public-Private Collaborations that Bridge the Gap from Commitment to Measurement to Action
ReFED is thrilled to be a part of several strategic partnerships, each of which brings together key players to collaboratively work towards an equitable and efficient food system. Leading these partnerships enables ReFED to cement its role as the central convener on U.S. food waste solutions and foster greater collaboration among partners in the sector.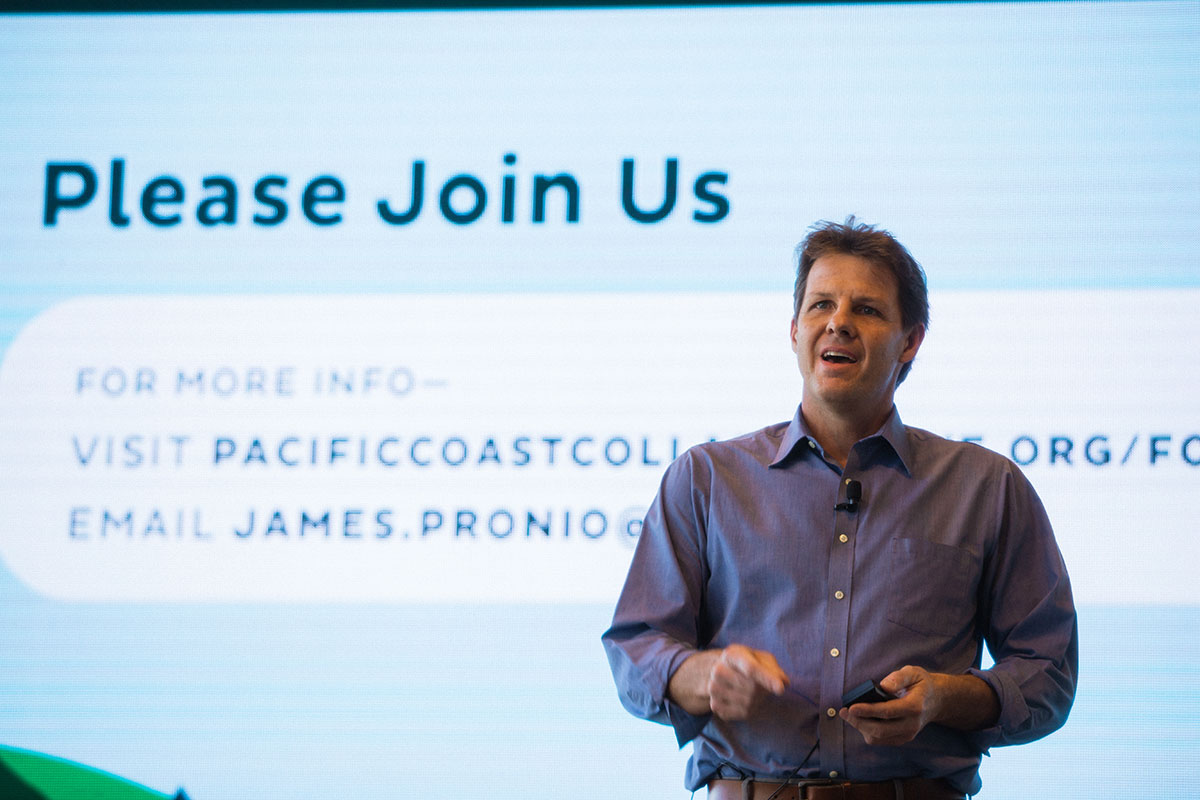 New Seasons Market, PCC Market, The Kroger Co. and Albertsons Companies west coast divisions, which include stores such as Albertsons, Safeway, Vons and Pavilions, announced that they've joined the Pacific Coast Collaborative's (PCC) partnership to reduce food waste in line with the West Coast Voluntary Agreement to implement Sustainable Development Goal 12.3. ReFED looks forward to collaborating with the PCC, World Wildlife Fund and WRAP UK to help bring this one-of-a-kind partnership of states, municipalities and food businesses to life in order to secure commitments, measure progress and implement solutions. Join us to reduce food waste by 50 percent along the North American West Coast.
In addition, the USDA and EPA announced the 25 food businesses serving as industry leaders as U.S. Food Loss and Waste 2030 Champions. These businesses have publicly committed to donating millions of pounds of food to local nonprofits to galvanize national efforts to reduce food loss and waste by 50 percent. We need more companies to join the 2030 Champions and set public food waste reduction as a top goal in order to have a target that everyone can work towards.
6. Cultivation of Fruitful Connections
Our one-of-a-kind venue provided a breathtaking backdrop for illuminating discussions to filter the air with a touch of purposeful pomp and for solutions-oriented synergies to be crafted around the picturesque National Geographic food waste gallery.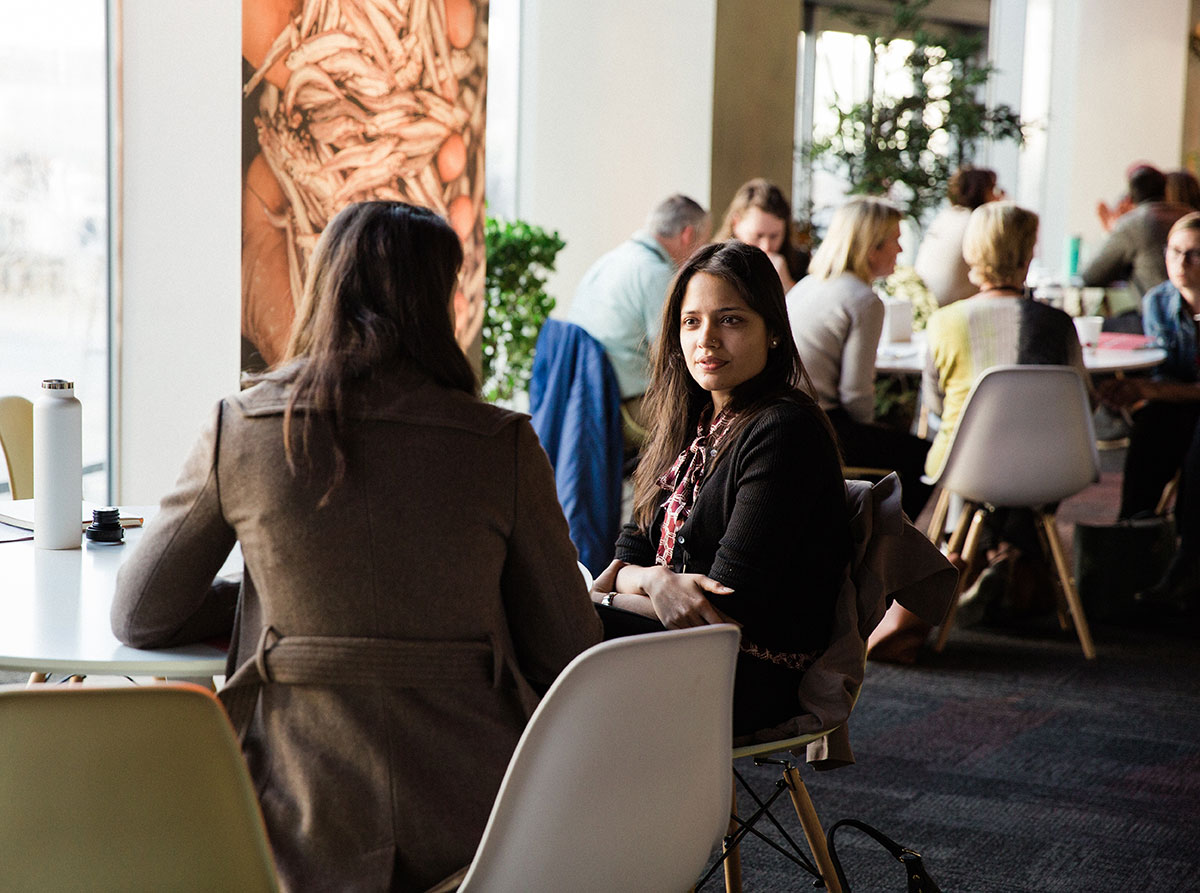 This year's Speed Dating Workshop with 12 lightning rounds of five-minute dates delivered more than 600 curated matches between food businesses, funders, technology companies and solution providers.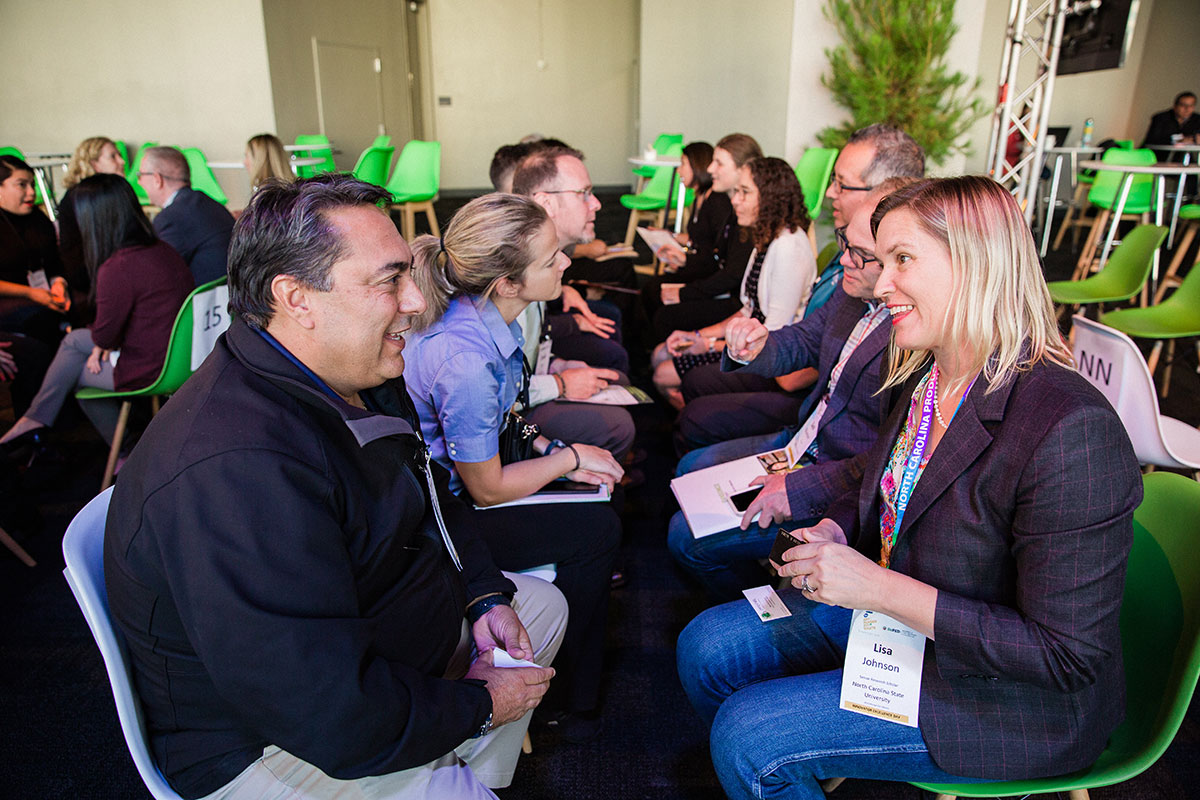 When daylight faded and summoned the electric evening happy hour sessions, guests were invited to intimate fireside chats with Jamie Bussel of the Robert Wood Johnson Foundation, to share their hunches, inklings, and ideas for how we can enhance the quality of health and wellbeing opportunities for everyone in America.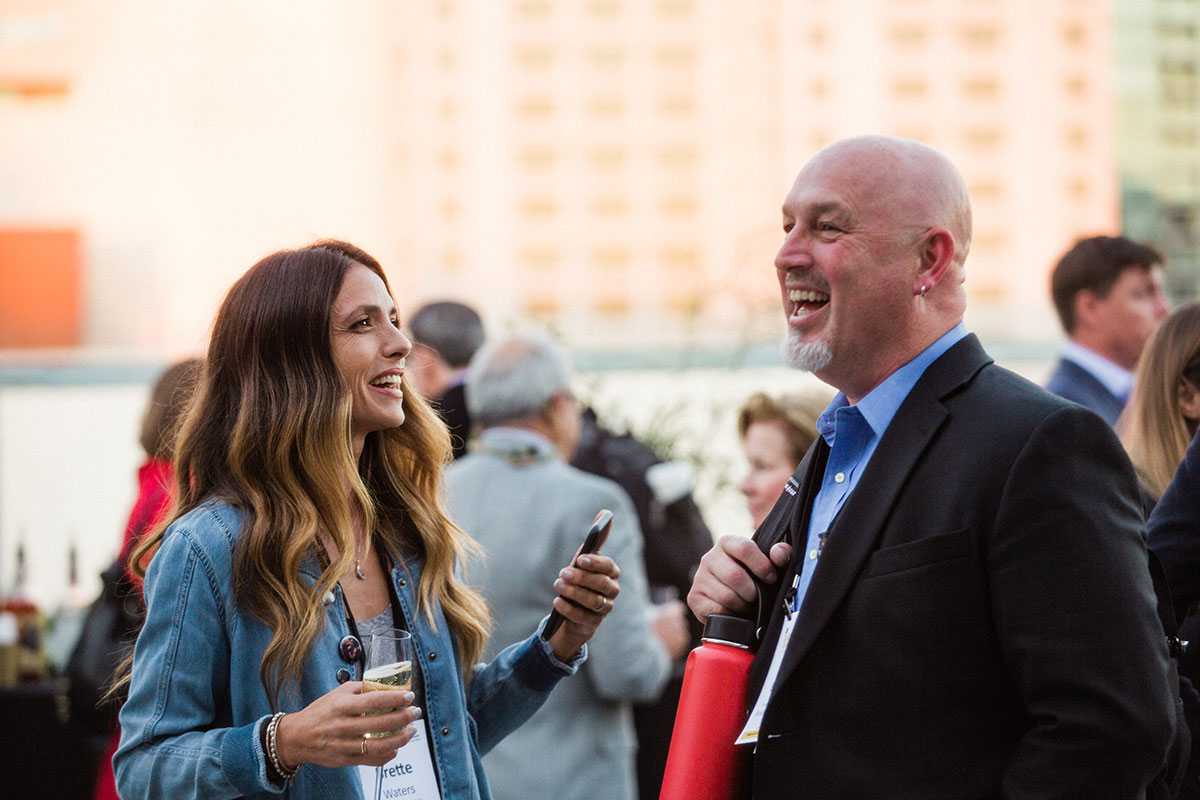 All in all, networking was at fever pitch and the camaraderie so thick that we simply could not ask for a more stellar group to toast to progress with.
7. Turning Up the Heat with Fun and Flair
Collaborative, informative and inspiring. It is difficult to pick just one word to describe the energy in the room that the action-filled event brought to the table.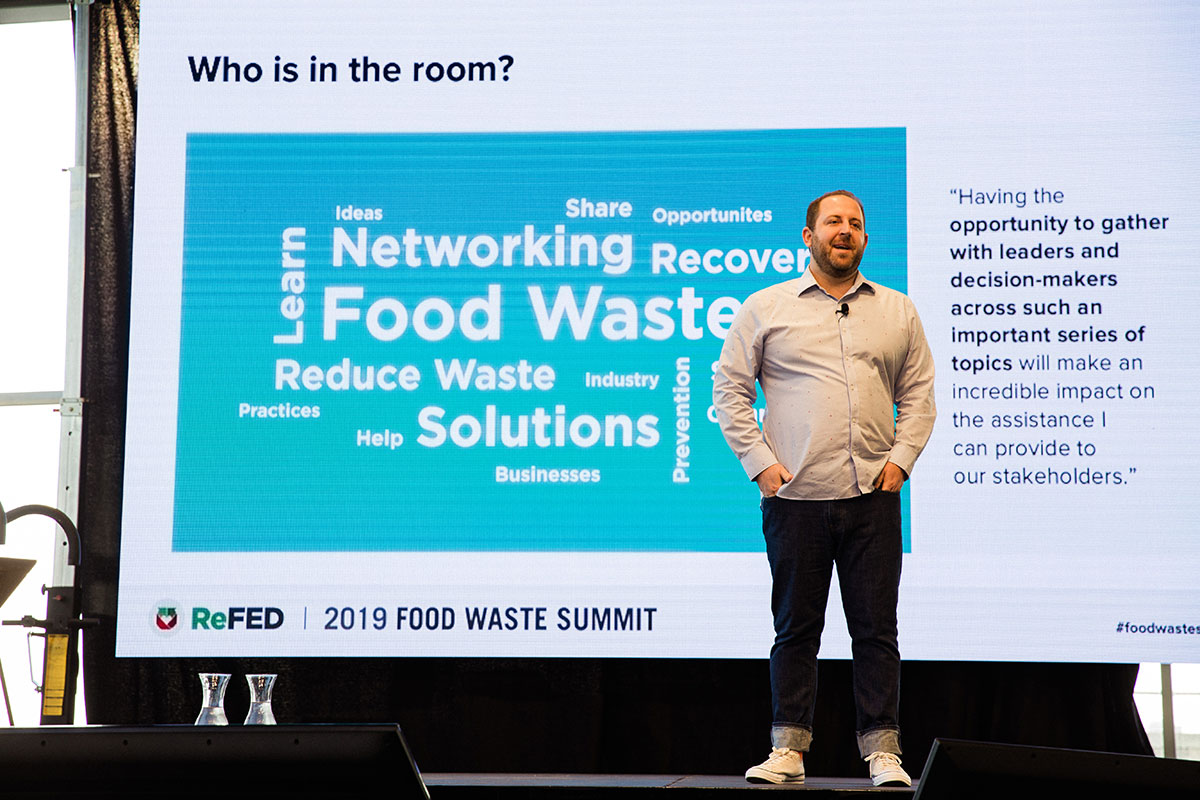 Our emcee, Joel Gamoran, one of the nation's most well-known sustainability-focused chefs, infused fun and expertise into the dialogue, while celebrity Chef Tiffany Derry of Tiffany Derry Concepts, turned up the heat with a delicious demo on the main stage.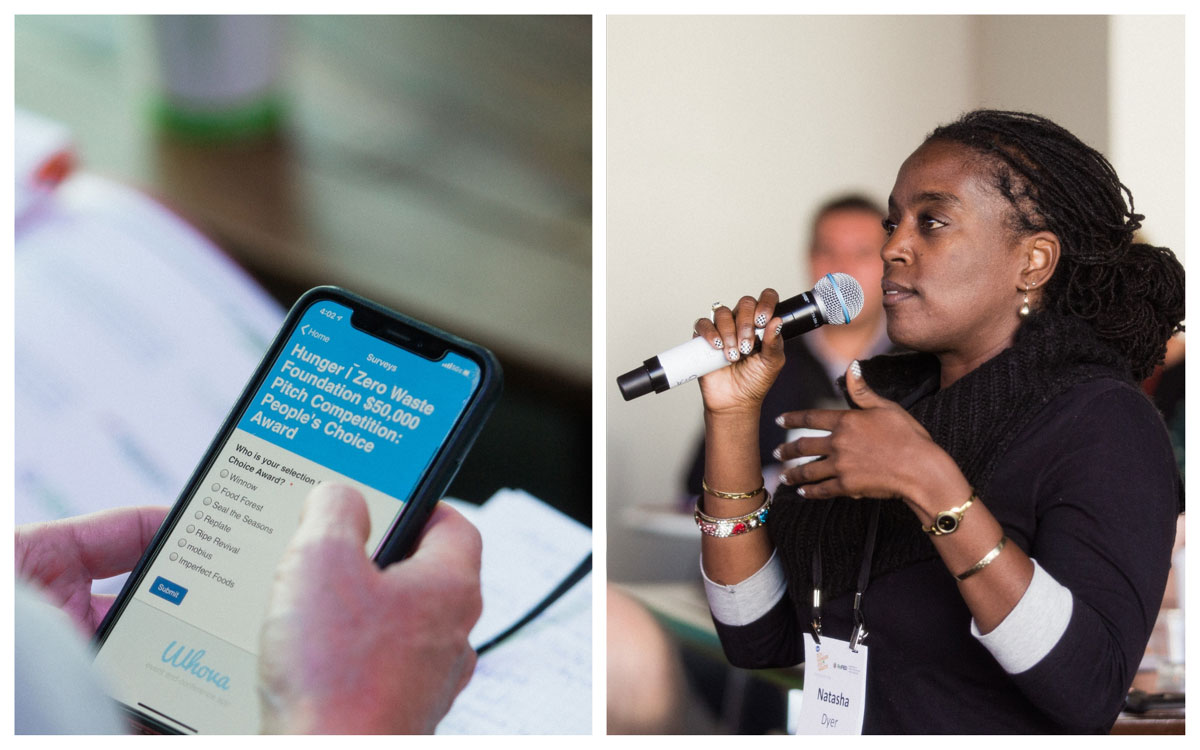 Tying this together was the interactive programming which allowed audience members to share questions and comments for the panelists through Whova during multiple Q&A sessions.
8. Tantalizing Taste of Sustainability
Feast your eyes on this. A mouthwatering mix of crispy sea salt seasoned kale chips, fresh fragrant smoothies bursting with tropical notes of mango, strawberry and roasted coconut flakes...and we haven't even covered lunch yet! Summit attendees were treated to a sumptuous selection of carefully crafted culinary delights while supporting food waste prevention, recovery and recycling efforts throughout the event. Meals were served using compostable plates and utensils, in mindfulness of California's statewide water conservation efforts.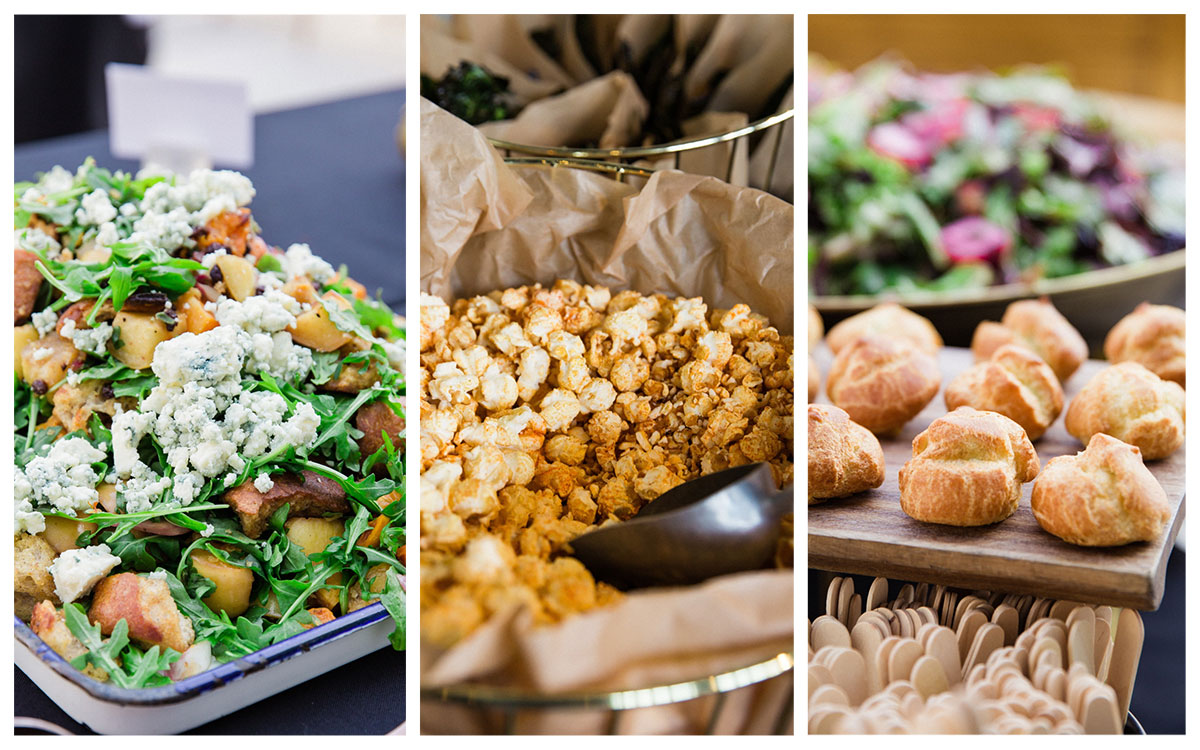 ReFED teamed up with Foxtail Catering to source ingredients from farms that share a similar vision in food sustainability, and that would have otherwise been wasted: utilizing the entire product from nose to tail and root to top, creating shelf-stable options when possible to be used throughout the event, forecasting demand in an effort to prevent overproduction, and having composting and food donation as options for any plate waste and potential surplus food. As a result of these efforts, the 2019 Food Waste Summit had less than eight percent surplus, making this a truly sustainable event.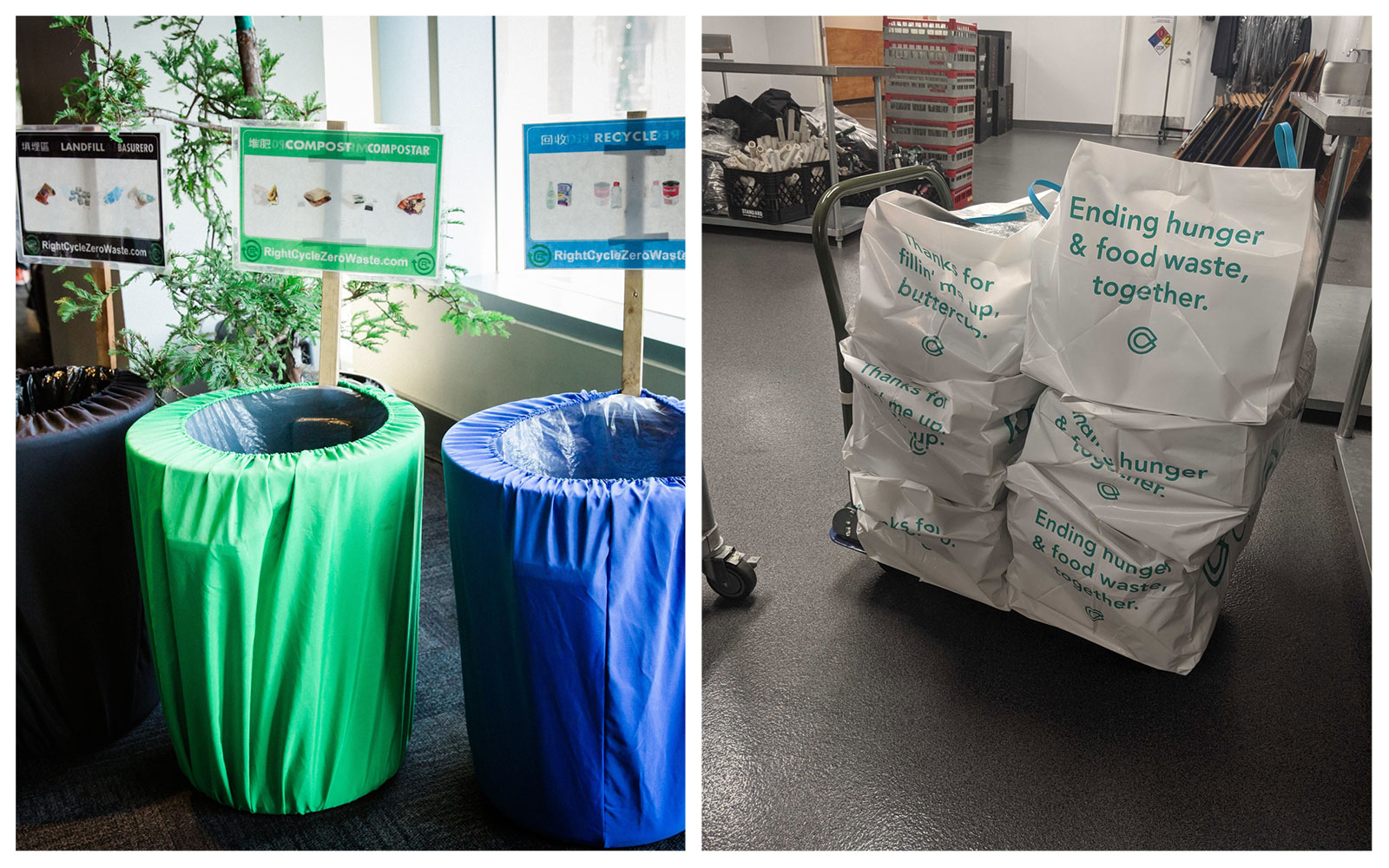 9. Exploring the Food Waste Fight from the Front Lines
Following programming at City View, several Summit attendees visited the Renewal Mills West Oakland office to learn about the upcycling company's okara flour production. CEO and founder, Claire Schlemme greeted the group and explained the tradition of okara flour production in Japan, a byproduct of tofu production, and the journey their company has taken to bringing it to market in the U.S. Caroline Cotto, COO led tours through the neighboring Hodo Soy tofu factory where the byproduct is procured. The experience provided a firsthand glimpse into symbiotic business relationships that can be both financially beneficial and reduce food waste with people that are working on the front lines.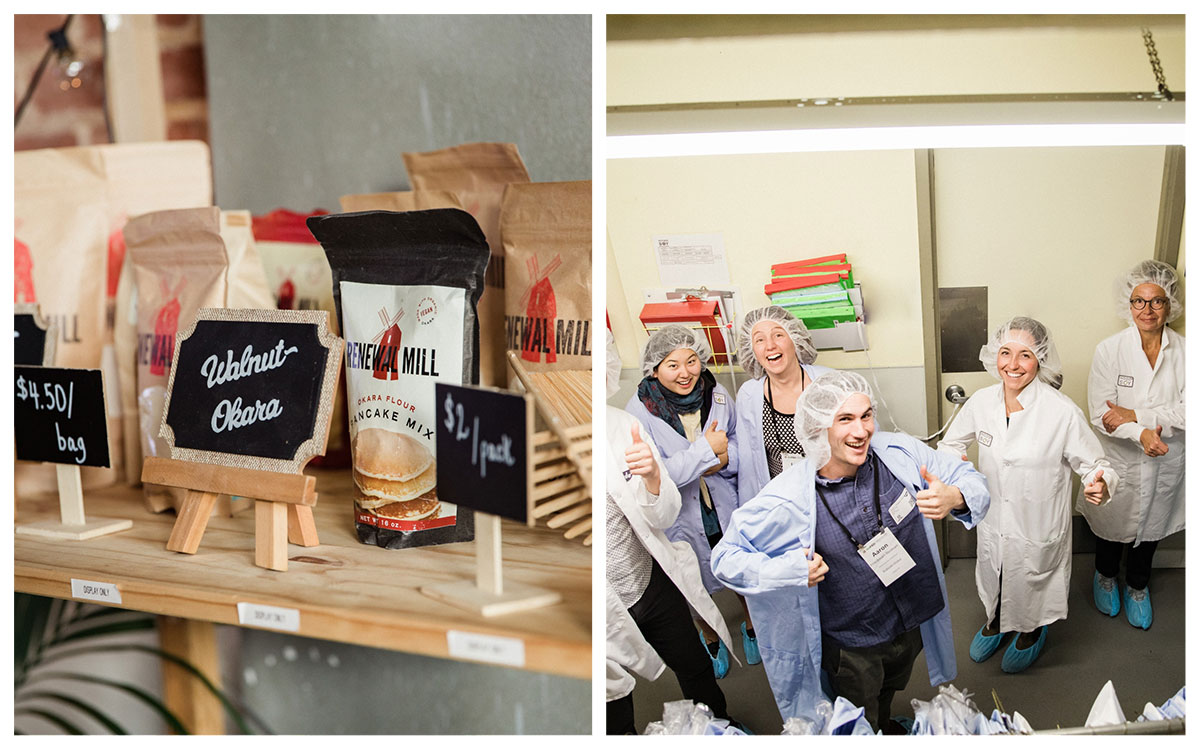 Another group toured Alameda County Community Food Bank's (ACCFB) 18,000 square foot facility which provides enough nutritious food for 30 million meals in Alameda County. The visit was an opportunity to learn about the ACCFB food recovery processes directly from their staff and how they help people stay healthy, all while working to end hunger.
10. The Takeaway: Target. Measure. Act.
"One of the key takeaways is the fact that there's not one solution to this issue but there are many solutions and it takes a whole community to be invested and to recognize the problem to work together on a solution," said Elaine Fiore, Founder of School Food Recovery.
This is why at ReFED, we do not simply think, we also do. Looking forward to 2020 and with only ten years left to achieve our common goal of halving food waste by 2030, now is the time to bridge the gap from commitment to measurement and finally, action. We hope you will join us in building a more efficient and equitable food system through the creation of actionable data and insights, through increased capital and innovation to drive increased capacity to prevent, recover and recycle food waste, through common-sense policies that create an enabling environment for solutions to flourish, and through the actions you take every day to strengthen our communities, economy and environment.
Stay tuned for details on the 2020 Food Waste Summit and don't miss the chance to be a part of this incredible movement. We look forward to the road ahead and celebrating accelerated actions a year from now.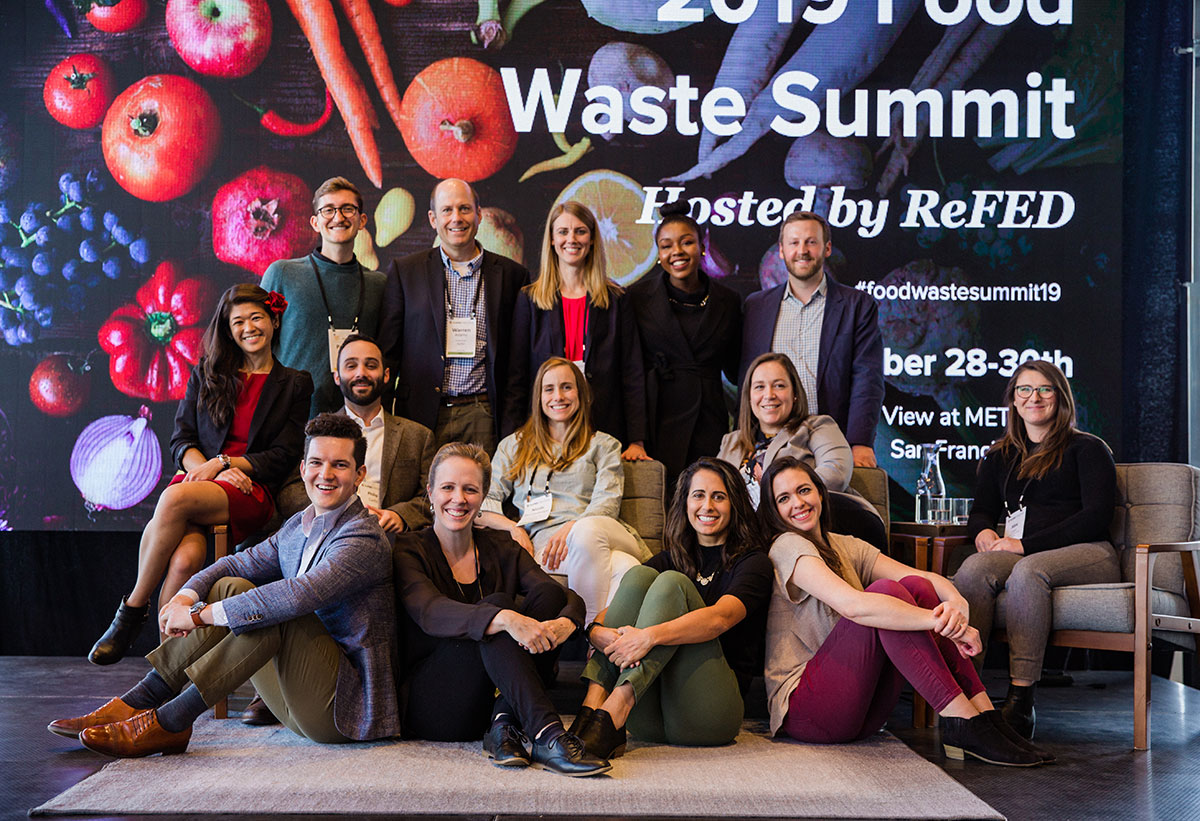 A special thank you to the organizations that made the Summit possible!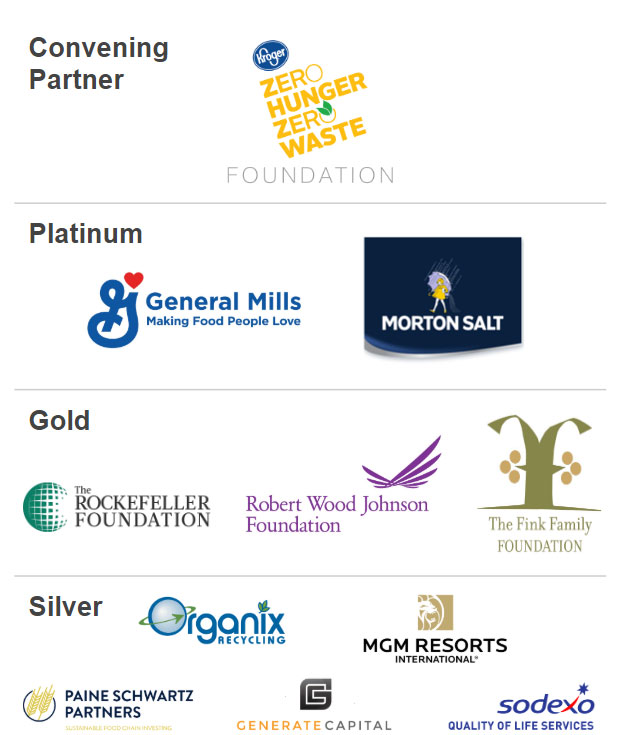 Organizing Partners