At ReFED, we continue to set the pace to support measurement and action to reduce food waste in the U.S., by being the definitive source of data and economic analysis, and moving the food system from acting on instinct to insight-driven actions. To further support the food waste sector, ReFED is pleased to announce that we are launching the ReFED Insights Engine in 2020, a digital-first, continuously updated platform to house the next generation of data, insights and guidance on food waste and solutions.
Shifting Gear from Awareness to Scalable Action
The answers to three key questions remain important for us to solve our national food waste problem:
How much food is being wasted and are we on track to cut 50 percent of food waste by 2030?
Why is food being wasted?
What can we do about it?
This is where the Insights Engine comes in. Building upon previous ReFED work, including the 2016 Roadmap to Reduce U.S. Food Waste and other resources, this platform of online tools and reports will allow stakeholders to view, filter and download robust data, insights and guidance on U.S. food waste and solutions to inform strategy and decision making.
ReFED is grateful to our seed funders for investing in and partnering on the initial stages of this work, in particular The Kroger Co. Foundation, Deloitte, and NielsenIQ.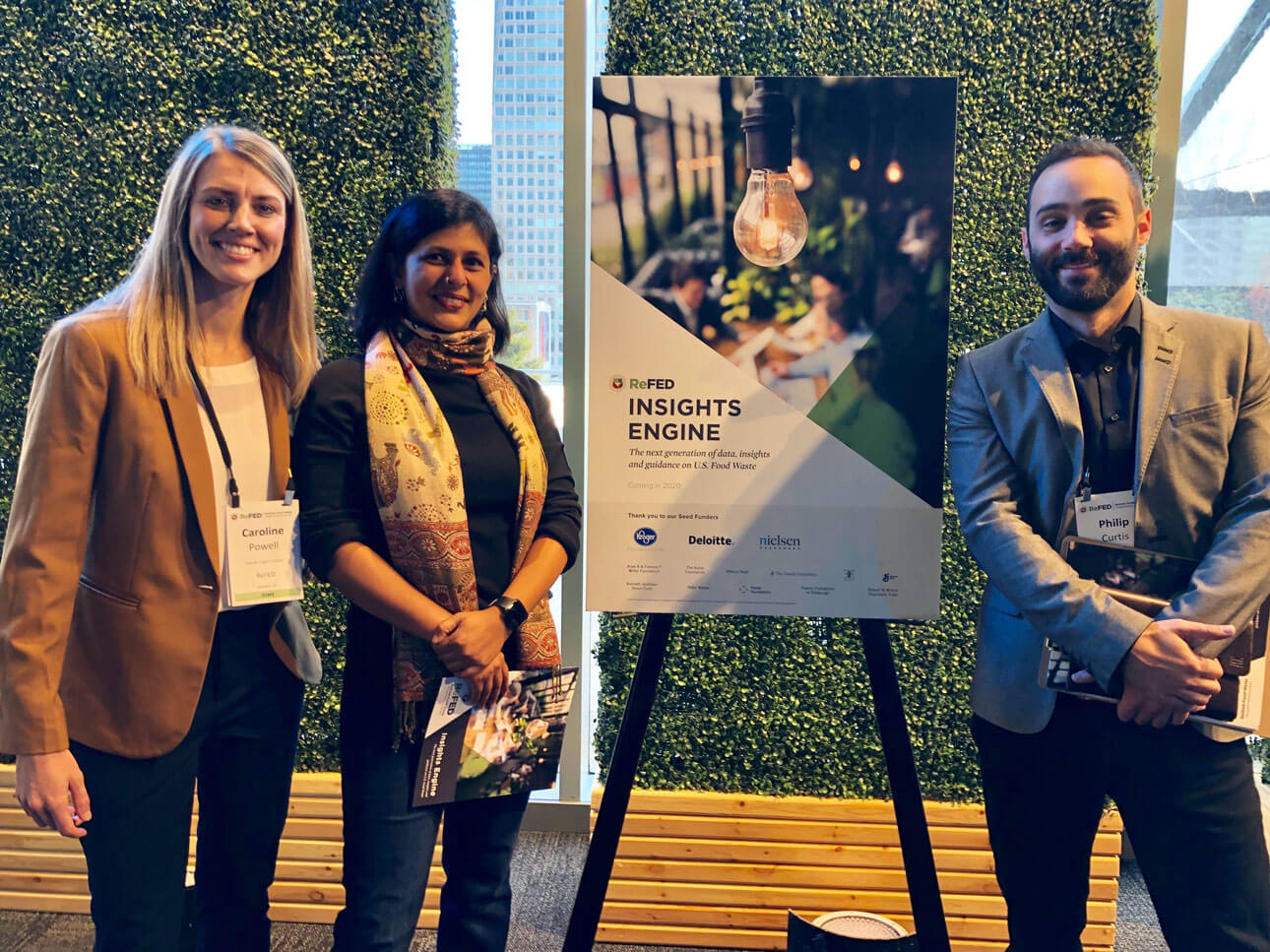 "We're developing the Insights Engine to leverage the best data and the best minds available to answer these pivotal questions, and to identify the most effective and practical solutions that the sector should focus our efforts on implementing. This innovative platform will combine public and proprietary data and subject matter expertise from ReFED's 30+ member Expert Network to deliver the insights and guidance needed to focus action and achieve our goal to cut food waste in half by 2030," said Caroline Powell, ReFED's Data & Insights Director at the 2019 Food Waste Summit in San Francisco, California.
"Since its inception, ReFED has produced resources that have been my go-to for quality data and economic analysis on U.S. food loss and waste. They have also been an unwavering partner and collaborator with Sodexo and so many others as we work to address this global crisis. I look forward to the next generation of ReFED's analytics and guidance that the Insights Engine will yield. There has been progress made on target setting and measurement to address food loss and waste, but there is so much more work to do. Their reporting will undoubtedly help accelerate the sector forward and increase the odds that we'll collectively hit the 2030 goal of a 50% reduction,"says Nell Fry, Senior Manager of Sustainability Field Support at Sodexo.
Seize the Moment and Join the Data Alliance
A big game changer that has the potential to be a driving force behind the Insights Engine is the Data Alliance of leading organizations that will share food waste data for its development.
"This field is evolving and we need the data to catalyze and enable that growth. By creating a living breathing data center, people will be able to get real-time robust and granular data," says Dana Gunders, a ReFED board member.
As we move into the next chapter of development, we look forward to sharing more about this powerful asset for the sector and invite food businesses, capital providers and solutions providers to be a part of this movement by joining the Data Alliance.
To learn more about this project, download our Insights Engine overview and contact us at insights@refed.org.