What just happened?
Earlier this month, the imperfect produce channels space took a major step forward toward mainstreaming and potential adoption with the announced acquisition of Imperfect Foods by market leader Misfits Market. Misfits Market and Imperfect Foods have spread their operations across the country, albeit through different means and methods, and their footprints complement each other – Misfits Market is targeting suburbs, and Imperfect Foods is in city centers. Although the map below reflects data from April 2021 – and both companies have since continued to expand – it shows how their different strategies have played out geographically. What makes this so notable is that they are two market leaders – and two of the first food waste unicorns.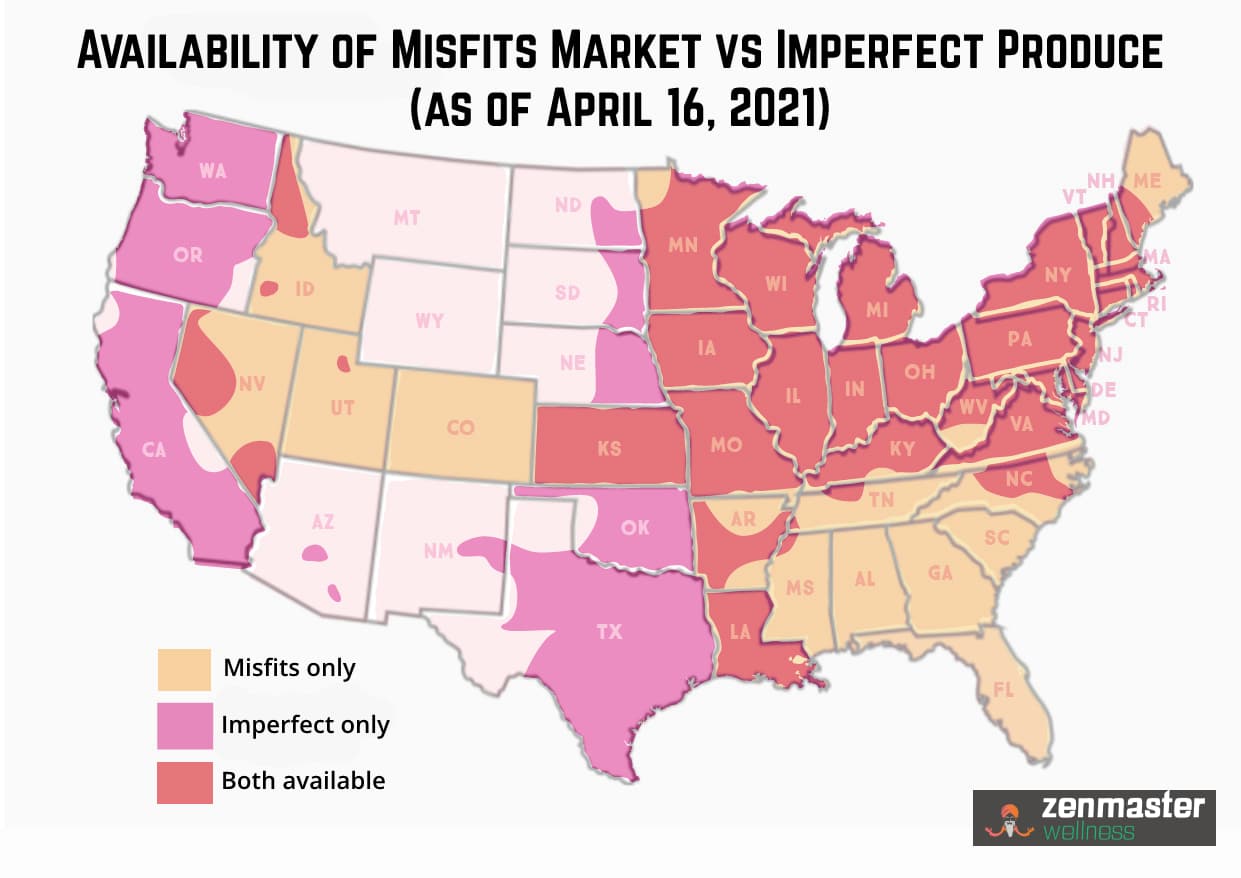 Misfits uses an outsourced third party logistics firm, acknowledging that great logistics operations already exist and building it alone is difficult. Imperfect has invested resources to build out their own fleet, which has provided their customers more flexibility when it comes to delivery times.
The Misfits/Imperfect marriage is being positioned as enabling lower costs for consumers and providing more access to products through increased negotiating leverage. More likely, it will improve access to this service for many in the U.S. Having imperfect channels be available in many geographies will help consumers to at least consider this as a viable food waste option – there is the risk that this will reduce the need to grow and allow them to retrench from less profitable markets. Of course, the move also benefits both organizations, as they don't have to pay for customer acquisition costs against each other – e.g., through free trials or discounts – but rather will compete against incumbent retailers and other grocery delivery companies. Of course, as with all mergers, integration will also be a hard slog and will take management's focus away from expansion for the next year.
How did we get here?
In the mid 2010s, many local or regional imperfect platforms popped up. The value proposition of sourcing local imperfect product and consolidating it into something that could be delivered made a lot of sense for businesses and consumers – effectively like a CSA box model with different branding. Although these businesses worked locally, many needed venture funding to scale (to build out warehouses, facilities, etc.) and expand to new geographies with assets that weren't fully utilized, since demand didn't exist yet. As such, they struggled to build out operations to cover more ground and source enough volume and variety.
It was also around this time that large retailers like Walmart and Whole Foods piloted selling ugly produce, which was quietly ended by 2019 due to low customer interest. Going back to boxes, it was only around 2017 that Misfits and Imperfect (and Hungry Harvest to a lesser extent) responded by raising a lot of capital to throw at the opportunity to build organizations that could source broadly and also service more of the U.S. than any imperfect box before it. It is difficult for these companies to be truly defensible from a new entrant with a similar-looking platform, more selection, lower prices, etc. – a competitive environment that led to a "land grab" strategy.
Other imperfect boxes joined the mix as seen below: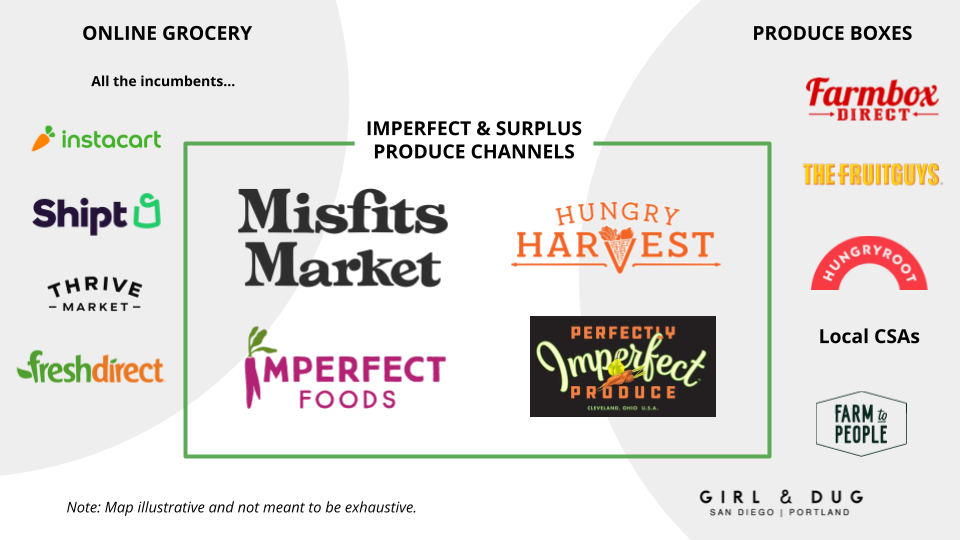 Post-2020, the space gained momentum, and a few underlying trends are now aligning. First, consumers that tried grocery delivery for the first time during the pandemic have stuck around. Other consumers who were considering adopting CSA boxes as a means of increasing their sustainability footprint can now turn to imperfect produce channels as an alternative.
This brings us back to why this merger happened. What is not lost on us is that both these organizations are being positioned as online grocery and delivery, and this category has struggled as of late with concerns about profitability and slowing growth, given that the boom in pandemic-related orders is no longer driving new sales. It is well publicized that Imperfect Foods struggled when they strategically positioned themselves beyond surplus produce by quickly adding new products to prolong the pandemic sales boom. Especially now, when fundraising is much harder, businesses will be looking toward acquisitions/selling to other companies rather than getting more venture capital. The land-grabbing chapter of imperfect boxes concluded with a rational merger rather than this playing out like ride-sharing, where sub-optimal competition has resulted in a consistently subsidized cost for riders and significant losses for companies.
Implications
This bodes well for current and future funders of the food waste space as the prospect of an initial public offering is now higher due to the increased size of the combined company. This can be used as an attractive case study for investment return for those considering funding the space. We do think that companies in imperfect produce channels need to scale in order to survive given thin margins, and we suspect we will have continued consolidation. Given uptake and initial investor interest – met now with certain online grocers having their funding tap run dry – there is a dynamic where retailers may take advantage and consider re-entering with their own imperfect product line.
Imperfect boxes are moving away from solely selling as a box of unloved things to a full grocery box that happens to have many surplus produce items. Purists may scoff, saying that these boxes are no longer "imperfect," but we would argue that this is the way of all food surplus solutions – they eventually get ingrained into our daily practices, so that we can live in a world where these types of products are appreciated and sought after without much consideration.
Do we think that imperfect produce channels are a silver bullet? No. This solution's criticisms are well documented – a cool box that ends up at a customer's house when they may not know how to use the food or may continue to induce overproduction. (There is the potential that "imperfect" items were already destined for foodservice or food processors anyway, and this is just dragging up the price). Even with these limitations, ReFED estimates that, if fully implemented, this solution could divert 2.9M tons of food waste, resulting in a reduction of 273k MTCO2e in GHG emissions.
We want to celebrate the news of Misfits and Imperfect. From the perspective of giving many in the U.S. a chance of trying out the model, we think this is important – consumer-facing solutions are extremely powerful in dealing with a significant amount of food waste (since the residential sector makes up 37% of total food surplus in the U.S.) but also in demonstrating and inspiring with what is possible. Locally sourcing food appears to be the best alternative from a climate and a food surplus perspective, but if not readily available or financially feasible, companies like Misfits Market might just be the imperfect solution to address the need.