By Emily Gousen
Recovered food is the primary source of meals provided by hunger relief organizations. In 2018, 81% of Feeding America's donations were recovered meals, yet this represents only ~5% of the 36 million tons of unsold food inventory generated within the food value chain each year.
Historically, recovery efforts have been led by highly localized nonprofit organizations (86% of US recovery organizations are nonprofits and 75% are local in reach) that are dependent on philanthropic funding, physical infrastructure and volunteer labor. While this model has been successful in feeding many of the food insecure on a local basis, it has proven challenging to scale nationally, or even regionally.
With nearly 40 million Americans facing food insecurity, there is an enormous need and opportunity for recovery organizations to deliver more food at scale and become operationally sustainable. Developing earned revenue models and adopting innovative technology solutions are key to solving this problem. From its work tracking the latest food recovery trends and insights, ReFED has identified several examples of these efforts already underway.
Innovative Uses of Earned Revenue Models and Technology
Fee-For-Service Donation Platform and Driver Partnership with DoorDash at Replate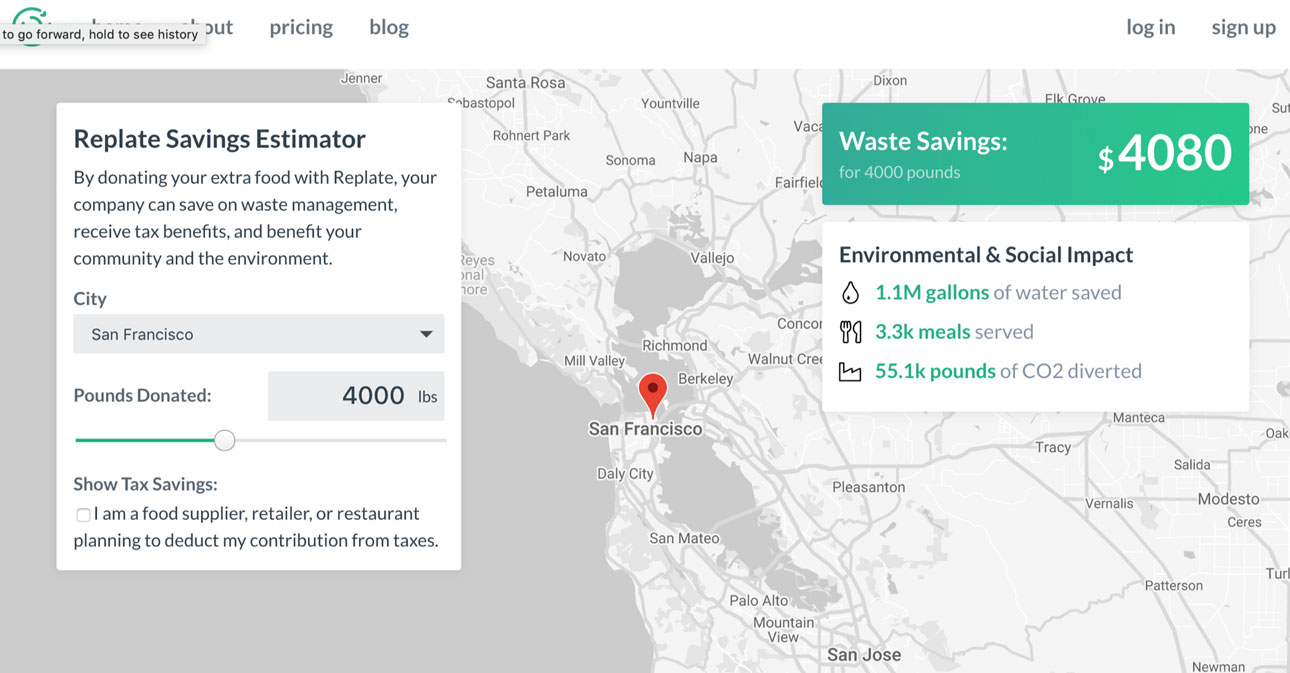 Replate, a Berkeley, California-based innovator, has technology that breaks the mold of a traditional recovery organization by utilizing strategies from the sharing economy to fight hunger. Using a fee-for-service revenue model, its web-based platform enables businesses such as Yelp, Facebook and LinkedIn to schedule on-demand pickups for surplus food.
Rather than relying on a volunteer-based transportation workforce, which can lead to challenges with consistency and reliability, Replate pays its drivers. The organization also has a partnership with DoorDash via Project DASH to leverage DoorDash's logistics platform and Dasher (driver) network to supplement food deliveries. Since the launch of Project DASH in 2018, other recovery innovators such as Copia, Transfernation, Urban Gleaners, and 412 Food Rescue have also formed partnerships with DoorDash.
Replate also allows its donors to claim charitable tax deductions, and the web-based platform helps calculate the financial savings of donations. By providing a quality service many are willing to pay for, Replate demonstrates how technology-enabled solutions can recover more fresh, healthy and prepared food.
Dignified Recovered Food Retail at Daily Table
Daily Table, an innovative nonprofit retailer with two locations in the Greater Boston area, offers fresh produce, packaged items and prepared meals at affordable prices to all customers who sign up for a free membership. Recovering food that would otherwise be wasted, Daily Table sells healthy food at discounted prices which are competitive with fast-food restaurants. This unique business model provides clients with the dignity of buying affordable, high-quality food combined with the flexibility to make purchasing decisions based on individual food preferences. The organization's recovery strategy fights hunger while reducing reliance on philanthropic funding.
Community Supported Agriculture Program and New Product Creation at 412 Food Rescue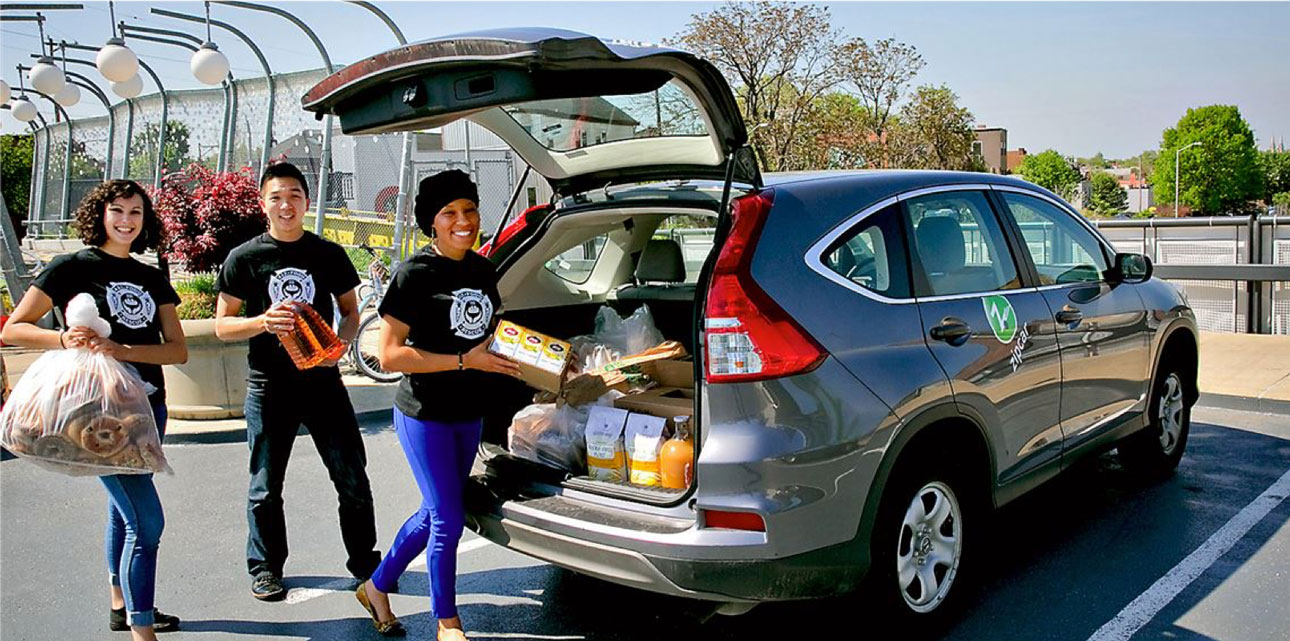 412 Food Rescue, a Pittsburgh, PA-based recovery organization, utilizes an original app, "Food Rescue Hero," to alert volunteers of available food, then coordinates pickups and transportation. 412 Food Rescue licenses the app-based technology platform and has a fee-for-service model which simultaneously increases broader food recovery capacity and provides earned revenue to operations.
The organization also earns revenue through other innovative business efforts to support operational costs. 412 Food Rescue offers a Community Supported Agriculture (CSA) that provides customers with a box of "ugly" produce, creating new markets for previously unsellable produce from a local cooperative farm, and partners with local food and drink manufacturers to create new products like craft beer from surplus bread or ice cream from gleaned mulberries. A portion of product sales goes back to 412 Food Rescue as a source of earned revenue that supports continued food recovery and gleaning efforts. These product collaborations not only support 412 Food Rescue's fundraising, they also introduce a new strategy for increasing food waste awareness among a larger customer base.
Value-Added Processing and Shared Community Kitchen Services at CommonWealth Kitchen

CommonWealth Kitchen, a Dorchester, MA-based innovator, offers shared kitchens and business development assistance to help aspiring entrepreneurs build new food companies. As one of the leading food business incubators and urban food manufacturing hubs in New England, CommonWealth Kitchen earns revenue by renting space in its warehouse and kitchen, offering classes and workshops, and executing value-added processing contracts for farms and wholesalers. Using this model, over 60 tons of surplus produce was processed in 2018. After tripling in size in just 10 years, CommonWealth Kitchen plans to continue to scale operations and the amount of recovered food it upcycles as they find new retail and wholesale markets and grow their institutional food service program.
ReFED's Vision for the Future of Food Recovery
ReFED estimates that the food recovery sector has the potential to double the number of meals rescued annually. While many nonprofit innovators, such as those profiled above, are implementing strategies that will lead to more economically sustainable operations and the delivery of more food to those in need, fully realizing the opportunity will also require the following systems-level changes:
Food donation tax incentives should be expanded.
ReFED estimates that expanding federal tax benefits to businesses and organizations that make donations via distribution strategies not currently covered under the current Good Samaritan Act would create $470 million annually in economic value and lead to the recovery of an additional 638 million meals. State and federal policymakers should consider implementing these concrete policy recommendations.
Where win-win opportunities exist, food donors should share some of the financial gains related to food donations with their nonprofit recovery partners.
Donors currently receive value from food donations in the form of tax savings, reductions to waste management costs, social and environmental benefits, stronger ties to their community and improved brand image. At the same time, food recovery organizations incur transportation, equipment and employment costs to collect, store, and distribute donated food. ReFED believes that sharing some of the value created from these benefits with their food recovery partners would allow food businesses to significantly increase their food donations and ultimately result in higher net gains for the food donors.
ReFED is encouraged by the growing number of recovery organizations developing earned revenue models and using technology to deliver more food to the hungry in a dignified and convenient way. Sign up for ReFED's Capital & Innovation mailing list to stay up-to-date on the latest developments in food waste and food recovery. If you are a food recovery innovator adopting earned revenue models and technology solutions, register for ReFED's Innovator Database to join the growing network of solution providers and learn about upcoming opportunities to grow your impact.