"How One Company Has Built Sustainability Initiatives That Drive Meaningful Reductions In Food Waste"
Interview with Thomas McQuillan, Vice President of Corporate Strategy, Culture and Sustainability at Baldor Specialty Foods, Inc.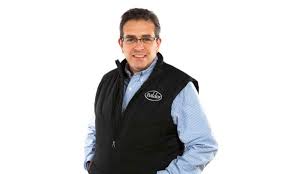 In this week's interview, we hear from Thomas McQuillan about his work implementing major sustainability initiatives at Baldor, a foodservice, retail and wholesale specialty distributor of fresh, seasonal produce and specialty food products sourced from around the world.
Since Thomas joined Baldor in 2015, he's worked to identify numerous sustainability solutions that produce economic value for the company. Thomas pioneered the company's SparCs initiative, which repurposes and upcycles the company's fresh-cut leftover food products from production into food for humans and animals. This program diverts usable food from landfills and has set Baldor on their course to achieve zero organic waste going to landfill throughout their FreshCut line. Thomas also supports farmers by sourcing imperfect and excess produce that likely would not have otherwise been sold.
Alexandria Coari from ReFED and Amy Ahearn from +Acumen spoke with Thomas about how he's been able to successfully roll out so many sustainability programs, the strategies he's seen to successfully eliminate food waste, and ideas he has for how nonprofits can work together with foodservice providers and retailers to eliminate waste.
DOWNLOAD THE FULL INTERVIEW HERE!
The full interview can be downloaded here. Be sure to follow along as we release additional interviews with our Expert Network members as part of the Accelerator Expert Network Knowledge Series.
###
The Accelerator Expert Network Knowledge Series highlights interviews with members of the ReFED Nonprofit Food Recovery Accelerator's Expert Network, representing a diverse group of food businesses, capital providers, government agencies, technology companies and food systems subject matter experts. Given the Accelerator's aim to catalyze ideas and inspire actions that will lead to a doubling of healthy food available to the 40 million Americans facing food insecurity, a new interview from an Expert Network member will be released each week throughout the course of the 3-month program, running from September - December, 2019. Each interview can be downloaded here.