After a month of reflecting on 2022, it is safe to say that the overall market slowdown is also affecting food waste funding. However, members of ReFED's Food Waste Funder Circle remain positive on the space according to our end-of-year sentiment survey.
Key 2022 Highlights:
Food waste funding down 14% to $1.7B from all-time highs in 2021
Deal volumes <50% down on the year
Large deal for Vanguard Renewables made up 40% of 2022 private investment flows
Innovation activity has been active for organics recycling
Upcycling still working to gain traction with consumers and businesses
2022 saw more than $1.7B directly fund food waste solutions in the U.S.; if we were to include Misfits Market's acquisition of Imperfect Foods, the total volume of private food waste funding would likely have been in-line with 2021. Given food waste is an up-and-coming sector, a single deal can swing the whole year, and in the case of 2022, it was BlackRock's $700M acquisition of Vanguard Renewables, an organic waste management firm converting agricultural and food waste into energy through anaerobic digestion.
A peek under the hood of the numbers reveals diverging directions for VC and PE funding. Historically, venture capital has made up a majority of trackable private capital for food waste, but in 2022, private equity was the major factor. Food waste funding growth rates have historically been in-line with U.S. VC flows. What has and will drive capital is private equity investments and exits – through acquisitions and IPOs – occurring as the space develops, which results in larger deal sizes and increased confidence from prospective funders due to exit potential. Right now, Food Waste Funder Circle members identify the space as somewhere between nascent, steadily growing, and about to take off. That said, all of the institutional VC and PE funders who responded to our survey said that the sector was either in its infancy or about to take off. These types of investors are still getting acquainted with the food waste sector – seeing more successful businesses and exits will help grow their confidence.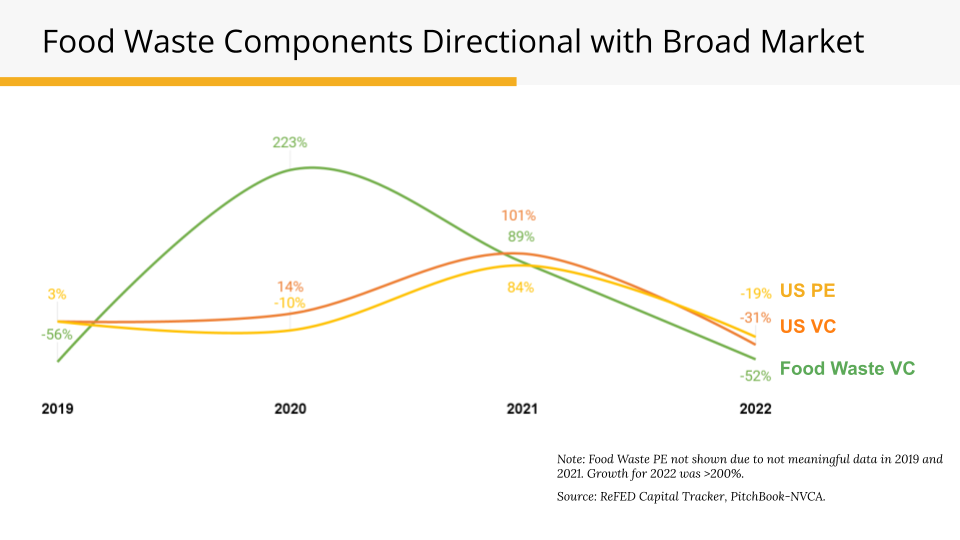 Importantly, we don't believe the sector has fundamentally changed over the past year. Overall, there is excitement and attention from funders, food businesses, and consumers. However, the reality is consumer behavior is hard to change, funders are being disciplined, and sales – and potential pilots – will be harder to find as businesses look to cut costs. Some reflections we have coming into 2023 are:
Negative economic backdrop. PitchBook has tracked four consecutive quarters of declining venture capital deals, and it suggests that declines could be the case for 2023. Given how correlated food waste funding is to overall VC, we expect to see a muted market due to: 1) a slowing of the rush of non-traditional investors who initially flocked into VC due to attractive returns; 2) little to no exits in venture capital overall also depressing expected returns; 3) startup founders trying to extend their runway to avoid unfavorable deal terms and lower valuations; and 4) VCs focusing on supporting their existing investments.
Positive policy environment. Despite this, it looks like policy is meeting the moment. North American leaders included food waste reduction as one of only six climate-focused commitments in their recent summit, and we are seeing local legislation – like organics bans that restrict food waste from landfills – enacted around the country. The Solid Waste Authority of Central Ohio also recently showed that a food waste reduction campaign targeted at households can have positive results. The expectation is that policy support and government funding for this issue will continue to increase, which should influence the attractiveness of certain food waste solutions for investors.
Lots of innovation focusing on organics recycling. More jurisdictions are enacting organics bans, yet organics collection continues to be a pain point for many parts of the U.S. due to a lack of offerings. Mill, which launched last week after quietly raising $100M over the past few years, is the latest solution provider seeking to connect consumers to regular food scrap service. Their offering is an at-home organics waste bin that creates an end market for waste by-product by collecting it and converting it into animal feed. This model differs slightly from the approach of most peers in the at-home system space, which typically create an end product that aims to be used as a soil amendment. In Canada, FoodCycler is being trialed by local governments to reduce the amount of organics being hauled. Another example of recycling innovation, this one focusing on retail food waste, is Do Good Foods, which is selling chicken that has been fed their in-house food waste-based chicken feed. We see this space going a couple of ways – these solution providers becoming the large waste platforms of the future or ultimately being acquired by the likes of Darling Ingredients and Waste Management (both have been active in the past).
Recycling M&A is where we're seeing a lot of activity. We've noticed private equity funders enter the sustainability space with demand mostly focused on anaerobic digestion assets. Again, legislation is making this attractive – and food waste generators are seeing recycling as possibly one of the easier ways to deal with their output, as compared to earlier-stage prevention solutions. A lot of recycling is also based on proven technology, so it is at the stage where it is not about innovation, but rather finding excellent operators, which is lending itself to large-scale M&A. With the avenue of public exits also closed for the time being, we imagine acquirers will provide an alternative exit.
Last year we talked about upcycling being nascent but growing, with deals likely to occur. But given how much work it takes to build consumer demand and to develop seamless, low carbon logistics on the waste generator side, that call might have been premature. Some consumer-facing upcycled products have had difficulty when focusing on sustainability as a primary motivator for purchase; there's still work to be done to educate consumers that these offerings can be equal or superior to non-upcycled alternatives in more traditional attributes like cost, taste, and quality.
Examine private capital food waste investments over the last ten years – from industry-wide trends to deal-level details – with ReFED's Capital Tracker.